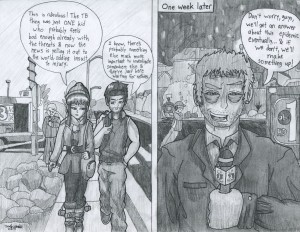 Channel 13 News cemented themselves in front of the school for over a week. All for what?
The recent recorded case of tuberculosis has caused an obsessive stir among local news stations, despite a vow of silence from Coronado administrators. In retort to these administrative decisions, Channel 13's sole offensive strategy was to prey on unknowing students, scavenging for the scraps of any possible new developments of the so called TB "epidemic."
This is a prime example of the inflammatory response of modern news. In their sensationalist warfare, news stations can exaggerate a story enough to make it intriguing to the Average Joe. Instead of digging back to the humble, hard-hitting, gritty roots of investigative journalism, the newly established trend is a lack of effort in modern news reporting, and perhaps society in general. The idea that thinking less is more and hard work and intuition are overrated, has infiltrated the news world, affecting every member of society who tries to stay updated via media.
What many people don't realize is that though the "unbiased" news swears to report the truth, they often swindle ideas to intrigue the easily entertained, mass social media type culture. Instead of pushing and straining for the "real" stories of today, so called "reporters" sit back and wait for the news to find them. Hats off to those who kick it the real deal and truly want to expose the truth to the world, those who truly want to make a difference and do whatever it takes to uncover what is real and what is not.
In a November 13, 2013 Review Journal article regarding the tuberculosis "scare," reporters used weak statements from uninformed speculating students about what was really going on inside the doors of Coronado. The statements presented were all based on suspicion and guesses, with no tangible proof from either student or reporter. But the statements presented as fact, did exactly what the reporter wanted them to do, spread a false sense of fear among students.
Another similar example written in a November 13, 2013 CBS Las Vegas article hinted at the possibility of a staff member potentially carrying the disease, a fact known to false. News these days wants you to live and embrace the mantra "be afraid, be very afraid."
These transparent statements and flat out lies slowed down education, took the focus of school away from learning(not helping Nevada's dead last state education ranking,) but most drastically, incited an empty fear in the hearts and minds of not only an entire school, but an entire metropolitan area.
The solution to this real modern news epidemic is to follow the established and well known code of ethics for journalism. This code has been disregarded for the shock value of twenty first century lies and over exaggerated "truths" by many new age "reporters." Bottom line, if you do not adhere to the ethical practices of journalism, don't even call yourself a journalist.