By Kacie Leach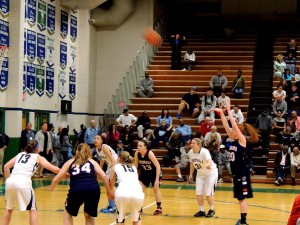 The varsity women's basketball game vs. Foothill at Green Valley included Grace Green, senior, leading the team with a total of 17 points, and Karlie Thorn, junior, with 11 points as well as three rebounds.
Coronado started halftime behind 40-27. By the end of the third quarter the girls were still behind 55-36. The final score of the game was 66-50; Foothill with the win.
Skylar Feldman, senior, and Samantha Green, junior, both contributed to the game with seven points each. Gabi Turturro, junior, with three, as well as two points from both Kayla Watterson, junior, and Jolie Ross, senior.
"I was happy to make the last basket of the season," Ross said, "but I'm really going to miss my team."
The season is now over; leaving Coronado with 17 wins and 13 losses.
"It was a bittersweet feeling fouling out in my last game, but I'm glad we finished with integrity," Feldman said.