By Jolie Ross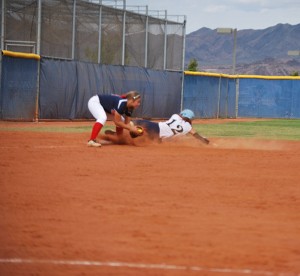 With Foothill and Coronado tied for first in the Southeast League, this game would determine who would come out on top, during their game on May 7.
In the first inning, Jaden Johnson, sophomore, hit a double to start the game off strong. Dylan Underwood, freshman, sacrificed a bunt in order to get Johnson in scoring position. Danielle Amato, senior, hit a hard single up the center, bringing Johnson in to score.
The Cougars were up 1-0 until the bottom of the second where the Falcons scored six runs to take the lead.
In the top of the third the team continued hitting doubles and scoring runs. By the end of the third, the girls cut the deficit by two.
During the fourth inning the Cougars got ahead 7-6 after Nicole Hardy, senior, hit a single allowing Jillian James, freshman, to score. Though Hardy hit a single to center field, she went for a double and was called out at second after the run was scored.
At the bottom of the fifth the Falcons scored two more runs giving them the lead.
Though it was do-or-die time, the girls couldn't get a hit off in the last two innings. With the final score 7-8 Falcons, the Cougars ended their season, placing second in the Southeast League.
Softball plays a nonleague game on Friday, May 10, at 3:30 p.m. against Valley for senior night. The start of playoffs is Tuesday, May 14, against Green Valley at 3:30.