By Karen Pegueros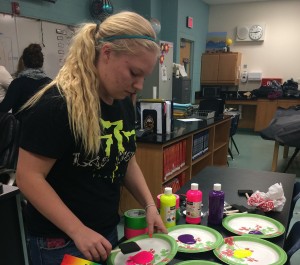 Relient K says, "The Sadie Hawkins' dance, in my khaki pants, there's nothing better." Well, it is time to grab your khaki pants because Sadie's is closer than you think. Boys are holding their tongues, because no matter how much they want to, or even don't want to ask a girl to the dance, the roles have switched and now the ball is in the girls' court to ask the guys.
The dance will be held in the school cafeteria on January 31 from 6-9 p.m. The theme is Club Cougars featuring black lights with a splash of neon.
There will be finger foods, drinks, and a DJ. Students are encouraged to dress in a casual fashion and matching attire is recommended.
The tickets start at $15 and will go up at the door. A portion of the money goes to the Coaches vs. Cancer program. Since 1993, the program has raised more than 85 billion dollars to fund ground-breaking research, provide up-to-date cancer literacy, advocate for public health policies and deliver services to improve the quality of life for patients and their families.
The basketball team will be hosting a carnival Wednesday, Jan. 28, to raise money for the program. For the past two years, the cheerleaders have hosted the dance, but this year National Honor Society has taken on that job.
"NHS is teaming up with Coaches vs. Cancer to do the most good possible," Kyra Sciabica, senior, said.
The carnival era has ended for Sadie Hawkins. To keep up with the theme, the event will be more of a dance.