By Rayne Hayes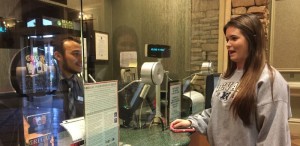 Thinking back to when you were seven years old and sitting through Finding Nemo for the first time, all you worried about was if your crayons were sharpened and if Marlin was ever going to find Nemo. Life was good; life was simple. Disney helped you be a carefree child. You can feel that way again. Pixar is back with new and improved films, hitting you right in the feels and bringing back your inner child.
During Disney's bi-annual fan convention, D23, held in Anaheim this summer, The Walt Disney Company announced everything they are releasing from now up until 2017. With Lucasfilm, Pixar, and Marvel in their control, Disney will release more films than ever before. From sequels to superheroes, Disney has it all.
"I can't express my excitement for the new movies coming out; however, I'm most excited for Finding Dory," Abbie Phillips, freshman, said.
Here is what to look forward to until 2017:
The Good Dinosaur will hit theaters Nov. 25, 2015. The plot is all about an epic journey into the world of dinosaurs. Disney is also producing three new movies including, The Force Awakens which comes out Dec. 18, 2015, Anthology Rouge coming out December 16, 2016, and Episode VIII surfacing May 26, 2017.
The next movie to hit theatres will be The Finest Hours, this story takes place in 1952 and is about a courageous rescue along the Coast of Cape Cod, expect to see it Jan. 29, 2016. Zootopia comes to theaters March 4th, 2016 featuring a fox on the run after he is being framed for a crime he did not commit. The Jungle Book will be released April 15, 2016 followed closely by  Captain America: Civil War on May 6, 2016.
Although Disney will be featuring many new movies, they have not forgotten about the classics. Alice and Wonderland, originally released in 1985, will have a sequel called Alice Through the Looking Glass that will surface May 27, 2016. Finding Nemo will also have a sequel called Finding Dory, coming out on June 17, 2016. While the remake of Pete's Dragon will hit theaters Aug. 12, 2016. Roald Dahl's The BFG, will be coming to theaters July 1, 2016 and Marvel's Doctor Strange comes out shortly after on Nov. 4, 2016, which is about the most powerful humans on Earth.
Another Disney princess movie is coming November 23, 2016 called Moana, which is about a young woman that uses her talents to set sail for a fabled island. Along with princess movies a live-reenactment of Beauty and the Beast featuring Emma Watson will be coming to theaters March 17, 2017. A sequel to Disney's more modern hit, Guardians of the Galaxy will be released May 5, 2017 and is called Guardians of the Galaxy 2.
In the past Pixar came out with three Toy Story movies and is now promising a fourth to come out on June 16, 2017, featuring a love story between Little Bo Peep and Woody. The last movie Disney unveiled was Pirates of the Caribbean: Dead Men Tell No Tales, coming July 7, 2017.
Disney has been extremely busy making new movies  for their viewers and has everyone excited for the future to come.
"I am most excited for the new Pirates of the Caribbean movie," Harrison Griffin, junior, said.