By Meagan Young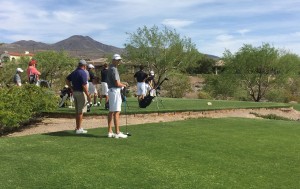 The men's golf team defeated Faith Lutheran High School 185-207 in a nine-hole match on Thursday, April 21 at Anthem Country Club.
"Yesterday the whole team came out to Anthem to practice and make sure that we were prepared.  We wanted to make sure we knew the course," Dylan Fritz, freshman, said.
Coronado golfers had the top five scores out of eleven athletes during Thursday's match. Jaylen Hodges, junior, had highest score of the match, with an even 36.  Fritz, Grant McKay, senior, and Joey Dotta, freshman, all came in with +1 over 36.  Ethan Bozner, senior scored a 38, after having two evens and a -1 in the past three meets. Jake Hurlburt, senior, shot a 42 to come in  eighth place.
"We have been preparing by hitting balls on the range and practicing every day. I feel really good about today's match," Caelan Clark, sophomore, said.
With the season winding down, the men's golf team has two matches left. The next match is on Tuesday, April 26 at 1 p.m. at Las Vegas Municipal. The team's final competition is the Southeast League match on Tuesday, April 3 at 11 a.m. at the Anthem golf course.
"Playing golf for Coronado has been a really good learning experience for me. I have been on the team all four years. So moving on will be bittersweet, but next year I will be playing golf for Trine University in Indiana, and I feel like Coach Sawaia has prepared me well," McKay said.