By Maddie Baker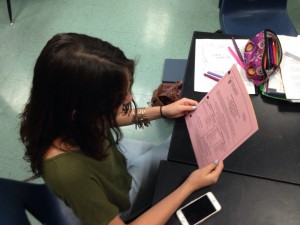 The end of school is here, but for some students that does not necessarily mean school is over. Students can take summer school on-campus or online. Registration for online summer school ends on June 2, and the last day to pay for online courses is June 5. The last day to request and submit online payment for an on-campus course is June 10. Walk-in registration for on-campus summer school for session one and two commences on June 8 and 9, and for session two-only, registration is available June 29 and 30.
"I do not believe students should take core classes during the summer. If they do, they do not have the same foundation for the next level as those who took it during the year. It is a great place to take classes like PE and health to make room in your schedule for college prep courses. I also believe it is a great place to make up credits," Ms. Harper said.
Session one of summer school on campus starts June 13 and ends on June 30. Classes are from 7:30 a.m. to 12:15 p.m. Session two starts July 5 and ends July 22 with the same schedule. Each half credit costs $100. High school courses offered include English 9 through 12, pre-algebra, Algebra I and II, geometry, world history, U.S. history, U.S. government, PE I and II, health, and biology. Semester exams for summer school courses are scheduled for June 30 and July 22 and cannot be taken early.  Students will not receive credit and will be withdrawn from the class if they are absent for more than two days during any session.
"Summer school is better than regular because it's not as stressful, and there's less homework," Jenna Rosario, freshman, said.
Both semesters of online summer school begin on June 13 and end July 20, but all coursework must be completed and submitted by 11:59 p.m. on July 17. Second semester exams are scheduled for July 18 through 20 and may not be taken early. It also costs $100 per every half credit for online summer school, and payment is submitted through Campus Portal with a debit or credit card. The courses offered are English 9 through 12 (honors and regular), Algebra I, Algebra II (honors and regular), geometry (honors and regular), world history (honors and regular), U.S. history (honors and regular), U.S. government, Spanish I and II honors, French I and II honors, Latin II honors, Personal Wellness I and II, driver education, health, intro to computer concepts, biology (honors and regular), chemistry (honors and regular), and geoscience. A parent or guardian must submit a sex education permission form for health courses. English, math, and science semester exams are on July 18. Social studies and foreign language semester exams are on July 19. Health, PE, drivers education and computers semester exams are on July 20.
"In science, for example, we actually have an opportunity to have fun a little bit and do labs when we cover the concepts. I can teach and then take a break and do a lab or teach and take a break with a video. We have a lot of fun during summer school because we're more focused since there is less time," Mrs. Jackson, biology teacher,  said.
On-campus summer school has smaller class sizes, so if a student was unclear on something covered in class, it is easier to get one-on-one help with a teacher. Online is convenient because it is easy for students to work at their own pace to get the credit they need on their own timetable. For further questions, students may contact their counselors or find papers in the front office.