By McKenna Cooley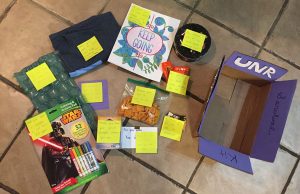 College is a big step for high school graduates. Moving away from home can be hard, not only for them, but for the siblings or significant others being left behind. A care package helps keep college students from getting homesick.
You will need:
– A shippable box
– Pictures (of you, them, both of you together, or other)
– A playlist
– An inspirational quote
– Their favorite snack, gum, or candy
– Something homemade from you, like your family's cookies
– A coloring book and pencils
– Hot chocolate/ coffee/ tea kit
– Decorations to decorate the box
– "When you" notecards
– Bubble wrap
Let's get started:
Step 1: Decorate the inside; it could be a theme or their college colors.
Step 2: Write "when you" note cards such as, "when you miss me, remember that it's only ____ days till you come home" or "when you open this, I know you are going to do great, so go kick some butt," so you can comfort them from afar.
Step 3: Label each item in the package with its own special message explaining its purpose. For example, add notes on top of the pictures "to remind you of our adventures together." Bubble wrap for "stress relief." Make a playlist "for when you need a good song to remind you of home." Don't forget an inspirational quote "to remind you to keep going because every day is closer to you coming home."
Step 4: Place everything into the box and send it off.
Step 5: Wait for the thank you call.
Remember this box is for students away from home, so personalize it to his or her needs. It could make any college student's day to get this "survival kit" or "care package."