By Sage Tippie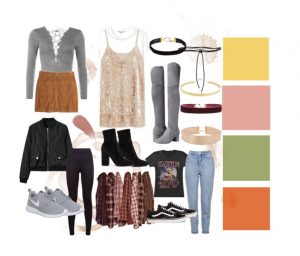 September 22nd marks the beginning of fall, and this year's autumn fashion trends are changing like the colors of leaves on trees. With the return of icy winds and pumpkin patches comes new clothing trends that are functional and fashionable.
Bomber jackets: Bomber jackets are guaranteed to be everywhere this fall. Coming in a variety of colors, fabrics, and sizes, there is one to fit everyone's style. Wear a bomber jacket layered over a sweater with a pair of ripped skinny jeans for a fashionable look that will keep you trendy and warm this fall.
Tee shirts under tank tops: Tee shirts under tank top dresses or shirts will only continue to grow in popularity this fall. This trend also allows you to wear dresses and shirts that may otherwise not be in dresscode to school. Pair a plain tank dress over a graphic tee for an edgier look, or wear a printed tank top with a plain tee and let the shirt speak for itself.
Rich colors: As colors begin to darken on trees, so do the colors for autumn clothing. Deep colors like dusty rose, mustard yellow, burnt orange, and olive green are perfect to wear in the fall season.
Lace-up: The lace-up trend will carry through from the summer into the fall. This look has been incorporated into most everything; shirts, sweaters, dresses, skirts, even chokers. Pair a lace-up top with jeans and booties for effortless everyday chic.
Chokers: Chokers have been spotted everywhere lately; on celebrities, on the runway, in local stores, and will be seen around school soon enough. Chokers are so popular because they can be simple, but can add so much to a look. A band tee and boyfriend jeans paired with a choker can make the perfect cool and edgy look.
Ankle & over-the-knee boots: There is no better time to pull about your boots than when the weather begins to plummet in autumn. Two types of boots particularly have been growing in popularity recently. The ankle boots and over-the-knee boots rise to the top for the fall. These boots can bring an outfit from plain to interesting in just one step. Pair over-the-knee boots with a sweater dress for a comfy, yet super stylish outfit, or wear ankle boots with a tee shirt dress and a bomber jacket for an on-trend look that will keep you toasty.
Textured fabrics: Rich fabrics such as suede, velvet, corduroy, and silk can bring the perfect accent to an outfit. Silky slip dresses, corduroy skirts, suede shoes, and velvet tops can be easily inserted into an outfit to give it a unique touch. Pair a corduroy skirt with booties and a long sleeved shirt for a cute everyday outfit this autumn.
Nineties style revival: The resurgence of nineties style has been in place for a while now, but there is no better time to demonstrate this trend than in the fall. Band tees, mom jeans, oversized denim jackets, and flannels were all brought back to popularity. Pair mom jeans with a tee shirt, leather jacket, and booties for an updated version of this classic trend.
Athleisure: Athleisure can best be described as the sporty looks floating around the fashion world right now. Think model off duty and casual-cool clothing. Leggings and sneakers can be incorporated into most outfits for a sporty but trendy look. Leggings, a tee, sneakers, and a bomber jacket can be combined for an ultra comfortable and warm outfit for the fall with both sporty and trendy vibes.
Neutrals: To compliment the deep colors of fall, neutrals are also growing in popularity. Nude lip colors and nail polishes will go with everything you wear. Celebrities are wearing nude lipsticks all over as of lately, from Kylie Jenner to Cara Delevingne. Pair a nude lip with a dusty rose top and mom jeans, and your look is complete.
From athleisure to textured fabrics to chokers, there is a fall trend to suit everyone. With the transition from Vegas's sweltering summer heat to its chilly autumn winds comes a major change in fashion, so get ready to hit the streets in this year's newest trends.