By Ryan Kelleher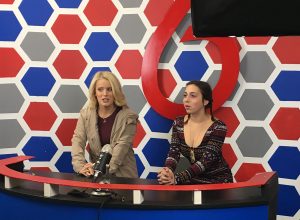 The lights are ready. All cameras are aimed and focused on the set. The anchors take their seats after reviewing the script. The teleprompter is prepared for the show. The music finishes and action!
The students involved in making the daily newscast, "Channel 6 News," work very hard to deliver news to the school. The broadcasting crew puts tons of creativity and work into their show, and there's a lot more work that goes on behind the scenes that the student body does not see.
"Creativity is one of the most important aspects of the show, just behind quality," Anthony Costanza, senior, said.  
Each day, members of the video production team are required to put forth a lot of effort and artisty during first period. Preparation for the show begins around 8:15 in the morning, when the script is delivered to the team.
"Everyday the activities office sends us the script. The anchors are then in charge of reading it off the teleprompter during the show," Jaylen Abrego, senior, said.
Along with reporting the news, the television newsteam produces features. They showcase what is happening around campus and spotlight important events. Each feature takes about a week to produce, and a new feature is included with the show every week.
"In order to upload a feature; filming, editing, critique, and re-editing must take place in a week. Finally, the feature can be aired," Ethan Morganti, sophomore, said.
The students assigned to create the features generate ideas with help from the cast. Once the team is set on an idea for a feature, they get approval from Mrs. Cox, the video production teacher. A feature takes about a day to film. Then editing takes about three to four days to complete. Broadcasting members re-edit and tweak the feature after they critique it. The team can then finally show the student body the completed feature.  
Another aspect of the show are its intros and outros, which always include the "Channel 6 News" logo and some backup music. The broadcasting members try to make them all unique. For example, some of the intros in October will be Halloween themed, inspired by the Netflix show "Stranger Things."
Barry Corcoran, junior, said that thinking outside of the box with intros is very important. Variety and style are also key factors.
Although producing the daily newscast may seem simple from the student body's point of view, the production crew puts tons of energy into delivering the news everyday. The show requires style, confidence, creativity, effort, variety, and commitment from all cast members.  
"I have an incredible group of students this year. It is uncommon for schools to have their newscast to be live. Doing the show live, gives the students an amazing opportunity. It is a privilege to teach these wonderful kids," Mrs. Cox said.