By Karen Pegueros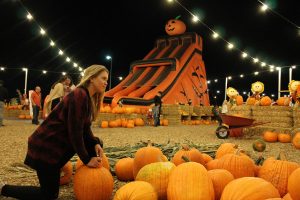 Fall is a time for snuggling up with blankets and hot coffee with the crisp air biting your nose. Halloween brings back pumpkins and 90's thrillers. With the leaves turning, it is time to visit the annual pumpkin patch or take long walks in the park with that special someone.
Movie marathon
There is nothing like reliving childhood memories by grabbing soft blankets and pillows with a bowl of popcorn, and Halloween classics like Hocus Pocus. Netflix recently added a new section- Halloween Favorites- for this time of year. It includes everything from Tim Burton's "The Nightmare Before Christmas" to "Devil" directed by John Erick Dowdle.
Pumpkin patch
The pumpkin patch, located on Coronado Center, is open Monday through Friday from 11 a.m. to 9 p.m. and weekends from 9 a.m. to 9 p.m. There are several different activities to participate in, like the traditional inflatable slide put up. Tickets are $1 each, and rides cost anywhere from one to nine tickets.
Carving creatures
Pumpkins can be found at local pumpkin patches or grocery stores, like Smith's, for only 33 cents a pound. After spending hours picking the perfect one, it's time to carve it. Although pumpkin carving kits can be helpful, there is nothing like using your hands to scoop out the guts. Printing stencils is a good idea, but freestyling the design works, too. Sites like Pinterest, Tumblr, and WeHeartIt are filled with all kinds of ideas.
Walk in the park
With the weather cooling off, walks in the park are ideal whether it be with a pet or significant other. Discovery Park and Paseo Verde Park are some of the few parks in town that contain deciduous trees that turn vibrant, warm colors. Bring along a book and basket of snacks for a nice picnic. Don't forget a blanket to sit on.
Baking seasonal desserts
This may not be the final dessert round of "Chopped," but don't be afraid to challenge each other to create the craziest recipe or to design the spookiest cookie. Sugar cookies are the easiest to make from scratch — just mix sugar, flour, eggs, and butter — but there is nothing wrong with going to the store and buying the pre-made package of joy. Seasonal pastry decor, such as orange frosting and sprinkles, spices up any food.
Coffee date
There is never a time when coffee does not sound good. Grab a pastry, a nice cup of joe, and put those phones away; it is time to have an actual conversation and learn new things about each other. Try to skip the small talk and go straight to the mind-boggling questions.
From staying indoors to venturing outside, there are plenty of activities to do this fall. While some may require more artistic skill than others, it is all about having fun and spending time together.