By Saveria Farino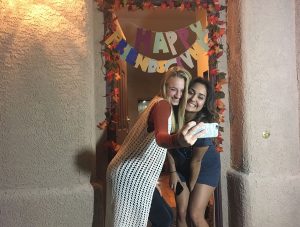 As the season changes, so do our daily essentials. It's time to bid summer adieu and smell the swirling autumn leaves that bring fun fall must-haves back into style .
Baking
Nothing is better than walking into the kitchen to the aroma of freshly baked treats. Baking classic family snickerdoodles or apple pie will be a tradition to pass on for years to come. This is the perfect way to get the family all together and start off the autumn season.
Socks
The time has come to show off festive fall socks. Whether they be fuzzy, wool, or covered in turkeys, rock your uniqueness from knee to toe. Within the cold months, show personality in every detail of an outfit. Stop by Francesca's, Target, or Forever 21 to find the cutest and most comfortable styles this season.
Tea and Coffee
As the weather cools down, the time comes to enjoy hot coffee and tea. Enjoy fan favorite seasonal drinks like the Starbucks classic Pumpkin Spice Latte or a chai tea at a local coffee shop. Bring a friend to spread the joy of the changing leaves and weather all around.
Blankets
Time has come to roll yourself up in the fuzziest of blankets and pillows to hide from the bone-chilling breeze. They can also make the perfect fortress for movie night with your sibling or closest friends. Spend the weekend nights listening to the wind howl while enjoying "A Charlie Brown Thanksgiving".
Shopping
As the seasons change, so do fashion trends. It's time to ditch the crop tops and sandals, and pull out chunky sweaters and boots. Black Friday is the perfect time to get all the styles to rock at an extremely affordable price. Stop by stores like Pacsun, H&M, and Urban Outfitters to find one of a kind styles to show off this season.
Candles
Make sure to stop by a local Yankee Candle or Bath and Body Works to pick up the greatest fall scents. Prices range from $8.00 through $22.50 and can instantly turn a bland room into a pumpkin paradise or apple orchard. Other sensational scents include Mahogany Teakwood and Spiced Pumpkin.
Friends-giving
Celebrate Friends-giving with the squad this fall. Enjoy each other's company with love and appreciation for one another surrounded by the best seasonal dishes and desserts like turkey and pumpkin pie. Spend the day giving thanks and appreciating each other's company. Check out some fall and holiday food boards to find the perfect meal or dessert to share with your crew.
Pumpkin Everything
For any pumpkin lover, autumn is the time to let out that inner orange. Autumn brings the best pumpkin delights pumpkin oreos, pumpkin bread, pumpkin tea, and pumpkin candles. The list could go on forever; it's time to embrace fan-favorite pumpkin treats or flavors for the fall.
Take full advantage of all the opportunities autumn brings with these basic essentials that will get everyone falling in love with fall.