By Bekah Denny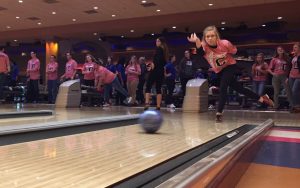 The men's and women's bowling teams took on Basic at Sunset Station's "Strike Zone" on Thursday, Jan. 12. Men's varsity won 2-1 and JV won 3-0, while both women's teams lost 0-3.
Sydney Jager, junior, women's JV, started strong with a strike and had a continuous lead throughout the first game; however, women's varsity suffered a defeat, losing 550-684 with JV also falling 408-437 to the Wolves in the first game.
"I could have focused more and watched my foot placement, but it was still a really good match," Jager said.
Leading the varsity men during their first game loss, Seth Murawsky, senior, collected two back-to-back strikes in the final frame but fell on the third roll finishing the game 721-734. Men's JV defeated Basic 653-441.
During the second game, Kiara Ackerman, senior, led the varsity team with two strikes and three spares. Ackerman finished the game in the lead with four strikes, but the Cougs still fell 550-734. JV collapsed under the leading Wolves 357-404.
"To me the team was too serious instead of having fun, so I think that lowered our game," sophomore Alayna Purdy, women's varsity bowler, said.
Travis Cummings, sophomore, piloted the second game with four strikes in the fifth frame. Cummings charged the team ahead in the final frame  with seven strikes total granting men's varsity a 703-568 victory. JV also conquered with a 728-611 win.
Ackerman led with two strikes for women's varsity for the third and final game at the bottom of the fifth frame, however women's varsity was defeated 590-732, and JV followed with a 383-395 loss.
Murawsky led the fifth frame of the men's final game with three strikes and ended his tenth frame with five strikes. Patrick Ng, junior, led the second half of the third game with a total of eight strikes, helping to usher his team to a 727-636 victory over the Basic Wolves. Men's JV also defeated Basic 640-499.
"We're feeling really good; we're undefeated so that's really awesome [for our record]," sophomore Racin Silva, men's JV bowler, said.  
In total, women's varsity finished with 1690-2150 and JV with 1148-1236. Men's varsity and JV finished with total scores of 2151-1938 and 2027-1551, respectively.   
"I was consistent. Consistency is one of the fundamentals of helping out the entire team, I think everybody doing that helped us win the match," Murawsky said.