By Joshua Christensen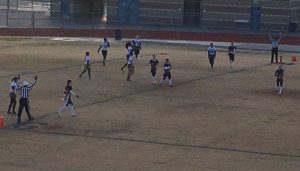 Varsity Flag football played a perfect game against Basic, scoring on all but one drive for 41 points and holding the Wolves scoreless throughout 50 minutes of play. Quarterbacks Nona Alemenario, sophomore, and Taylor Book, freshman, threw five touchdown passes and had no interceptions.
"The girls did great. [They] played the most complete game of the season," Coach Anderson said.
The Cougs had impenetrable defense. A disguised rushing attack from the defense forced sacks and throwing errors for Basic's offense. This, combined with excellent coverage downfield, allowed the Cougars to hold the Wolves scoreless. Only a single pass went to the end zone, which was quickly batted down by the Cougar defense. Tamera Tolentino, junior, contributed sack after sack and helped force six fourth downs.
"Our defense is really great at pulling flags and intercepting balls. They're aggressive but still play a clean and fair game. They're probably one of the best defensive teams in the league," Sydney Fairchild, sophomore, said.
The Cougars, however, benefitted from a no rush defense, giving Alemenario and Book time to find an open player. Except for a small miscue on the second extra point, the quarterbacks were in sync and accounted for 35 of the offense's total points.
"We just need to keep it rolling. We're trying to get tuned up for playoffs," Anderson said.