By Kyle Musler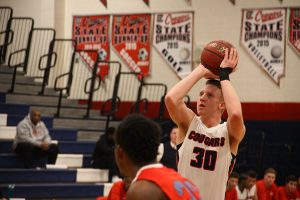 Many intense moments ensued as the men's varsity basketball team defeated the Valley High School Vikings on Tuesday, Feb. 14. The Cougars took on senior night with full force as they dominated their opponents 81-41 in the Sunrise Regional quarter final.
The Cougars took a formidable lead and continued ahead of the Vikings steadily throughout the game. Showing their weeks of practice and taking the first half by storm with a 24-point lead.
"We were confident that we could keep up the hard plays and teamwork to come out and win the game," Patrick Simms, junior, said.
Concluding the third quarter, the Cougars were up 41 points with five personal fouls, while the Vikings trailed behind in score and with six personal fouls.
Senior Trey Hurlburt led the team scoring 16 points throughout the game. Not far behind, Kennedy Koehler, senior, scored 12 points and made nine rebounds. Will Weems, senior, also made 10 rebounds advancing the Cougs to secure the win.
"Everybody played, everybody had fun, and when we have fun, we always play well, and it showed tonight," Donte Davis, freshman, said.
Concluding the game strong, the Cougars brought a win home in the final quarter, 81-41.
"Overall it was an interesting game to watch, and those guys really showed their true dedication to the sport with this win," Sam Proga, sophomore, said.