By Karen Pegueros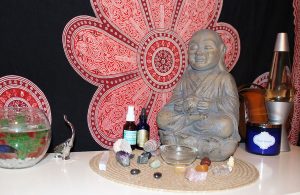 Meditating isn't about keeping up with the current zen trend. It is about mindfulness, finding inner peace, clarity, and sleeping better. Meditation can be practiced alone or with friends.
Meditating is about learning to understand the human brain. Mindfulness is "the basic human ability to be fully present, aware of where we are and what we're doing, and not overly reactive or overwhelmed by what's going on around us," according to mindful.org.
For starters, find a "happy" spot. It can include candles, chakra stones, different aromatherapy scents, plants and anything that brings bliss.
"My happy spot consists of my brightly-colored Moroccan rug, my embroidered meditation pillow, my alter with my collections of crystals and candles, surrounded by my bottles of essential oils and stacks of books," Brooke Nemetz, sophomore, said.
Meditation can be practiced anywhere: standing or sitting. Posture is important. According to how-to-meditate.org, keeping the legs crossed helps reduce thoughts and feelings and a straight back maintains a clear mind and allows energy winds to flow freely.
The head should be tipped forward to prevent mental excitement, eyes need be half open to again help mental excitement and prevent mental sinking, and shoulders should be relaxed to let the air circulate. Open hands should be placed gently on top of the knees; palms up symbolizing method and wisdom.
Breathe in and out calmly while focusing on your mental happy place. Find the negative thoughts and remove them in whatever way is most effective like sweeping them out, blowing them away, or simply waving goodbye; invite positivity in so the negativity doesn't come back.
"I get the negative thoughts out of my mind when I meditate by imagining them in bubbles and blowing them away," Mrs. Thompson, "The Roar" and "The Prowl" adviser, said.
For beginners it can be hard to start. The "Simple Habit" app can help guide beginners. Each session is timed, has calming background music, and soft audible instructions. The app is free, but users are able to upgrade to a premium version with more features.
"When I first got into meditating, I had a hard time focusing. Having the 'Simple Habits' app provided a hand guide for me to learn the art of mediation," Rayne Hayes, sophomore, said.
Meditating once a day can help combat negative energy, stress, and even physical pain. It helps people become more present and calm throughout their days.
"Meditation has greatly helped my stress especially from school. It is a way to alleviate my mind for a few hours and really try and recharge for the next day. It has also taught me to be more calm and present," Regina Dispa, junior, said.