By McKenna Cooley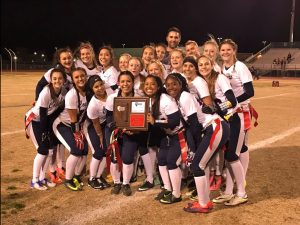 The Lady Cougs had a tough battle against the wind Tuesday, Feb. 21, but still outran Foothill, 25-7 making them Regional Champions.
After the Cougars rough start to the season, it was clear during this game that they are as close and united as ever. The Cougar defense held strong the entire game with the Falcons only scoring one touchdown in the first half. Coronado got on the board when senior Trinity Rhoades scored one touchdown after running 52 yards.
During the second half, both teams fought with the wind making it almost impossible for a complete pass. Quarterback Caitlin Shannon, sophomore, led the offense for two rushing touchdowns. Then throwing the ball to junior Shawna Slater for the final touchdown.
"At the start of the season our team had no chemistry; we had never played together before then, so it was hard figuring out how each of us played. In the middle of the season, we just clicked, and since then, we've been doing very good as a team," Slater said. "Last night meant a lot to me because the year before we lost to Foothill in the semis, so this was our big rematch. I was very happy I got a touchdown because I know I did my part in helping the team win."
The Cougs will play Cimarron-Memorial for the state title on Wednesday, Feb. 22 at Cimarron Memorial at 6 p.m.