By McKenna Cooley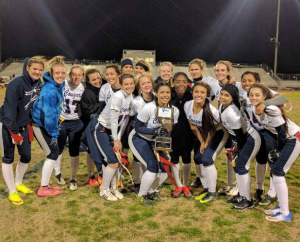 While fighting extreme wind and cold temperatures at Cimarron-Memorial, the Cougars and the Spartans battled it out for the state title on Wednesday, Feb. 22.
Only six minutes into the first half, Shawna Slater, junior, scored a 20-yard interception for the Cougars putting them in the lead. After getting a 30-yard touchdown pass and a two yard touchdown run, the Spartans trailed the Cougars, 7-6.
"This game was really great for us as a team," Shawna Slater, junior, said. "I was so happy I got to score for us in this game."
At the start of the second half, the Spartans took the lead after Logan DeLong scored a three yard touchdown run. After blowing past the Cougar defense, the Spartans had a 18-7 lead with 12 minutes left. After a final interception run of 76-yards for a touchdown the Spartans claimed the State title.
Coming off their big Regional win from Tuesday night, the Lady Cougs completed their season in second place at State against Cimarron-Memorial, 24-7.
"As this season went on we all grew much closer, which helped lead to our success. This game was special for me because it was my last flag football game, but for my team it was special because no one thought we could make it that far in playoffs," Trinity Rhoades, senior, said. "We earned the right to be there and hopefully next year the girls will win it all."