By Karen Pegueros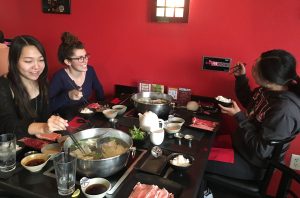 Upon entering the desert oasis, Shabu-Shabu Paradise, located on Valle Verde and Horizon Ridge, customers are immediately greeted by an eager waitress, repeatedly bowing in respect and smiling from ear to ear, and seated. With limited spacing, customers occasionally have to wait on the side in order for a table to open up, like any other restaurant.
Shabu-shabu is onomatopoeia for the swishing of meat in steaming water. The meat is sliced paper thin and cooks almost instantaneously, beef taking less than 10 seconds to cook and pork or shrimp around 60. Veggies, tofu, and noodles are also added to the mixing pot of glory.
The menu comes with prices and pictures. After ordering, the server brings a green salad, a mixture of leafy greens topped with sliced baby tomato and miso dressing. Luckily, there is no limit to these bowls of joy.
Next, depending on the type of broth, sukiyaki or shabu-shabu, the waitress brings sauces. Sukiyaki is a mix of soy sauce, sugar, and mirin – a Japanese cuisine essential similar to a rice wine – while shabu-shabu is a clear broth with a slice of seaweed. Ponzu, sesame seed, and a spicy sauce come with the shabu-shabu or upon request with sukiyaki.
Unlimited amounts of rice and veggies are also available to customers. The veggie tray includes cabbage, carrots, bamboo, green onions, tofu, and noodles. The venue carries a variety of meats: pork, beef, shrimp, scallops, or even Kobe beef, a rare and expensive, mouthwatering meat.
Prices begin around $20 for dinner and can reach $50 for a single order of Kobe beef, but the lunch special includes a free drink with free refills, the traditional unlimited supply of veggies, salad, and rice, and a lunch portion of the chosen meat for $14-16, with the exception again being the Kobe beef.
Customers can also purchase "additions" if they want to add mushrooms, udon or ramen noodles, raw eggs, or simply more meat. Different salads, soups, and other customary appetizers are available. For dessert, customers are presented with a traditional Japanese sweet treat of ice cream mochi. The heavenly cup is only $3 and worth every penny.
With the ridiculously low prices, remarkable customer service, quality food, and affable ambience, Shabu-Shabu Paradise is sure to please. Although a larger venue or additional restaurants would be nice, so more people could enjoy this fabulous fauc, the place is a complete five out of five.