By Ryan Kelleher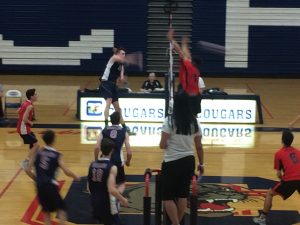 The men's varsity volleyball team lost their first home match of the season to Las Vegas High School on Wednesday, March 15. The team managed to take the match to all five sets, but fell to Las Vegas High's superior passing, 3-2.
The Wildcats started the match with high energy and a large audience for an away game. This loud Vegas audience seemed to shake the Cougs as they lost the first set 19-25. The Cougars started strong in the second set, but quickly lost the lead. Coach Matt Johnson decided to call a timeout and give the team a well-needed pep talk when the score was 17-19.
"Coach Johnson's pep talk really pumped us all up. I think the fact that we knew we could beat Vegas motivated us to fight harder, work harder, and bang out," Cody Sciabica, junior, said.
After Johnson's talk, the Cougars got a side-out, bumping the score up to 18-19. After a few more plays, the score was 24-20 with Coronado having the serve. Senior Ryan Garlick was able to seal the second set victory with a deep corner kill.
"Winning the second set gave us a boost of confidence we desperately needed," Matt Wilson, junior, said.
Coronado entered the third set with a lot of momentum, but it was not enough to stop the Wildcats. Vegas won the third set 16-25, but were unable to beat Coronado's hard-hitting offense in the fourth set. The final set only goes to 15 points, so the teams were definitely feeling the pressure. Coronado fought till the last point, but came up short, losing 11-15.
"In order to win, we need to make fewer mistakes and just work harder, but I'm very proud of how we played," Coach Johnson said.
The Cougars next home match is against Centennial on Tuesday, March 21.