By Saveria Farino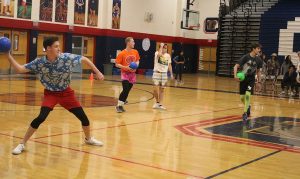 A team made up of all seniors and last year's winners, the Sick Orange Jeeps, defeated the Globo Gyms, a team of all juniors, in the championship match of the annual dodgeball tournament on Wednesday, April 5. Each game was five minutes long and the winning team of each game progressed until two teams remained for the championship.
To start the round one sets, the Sick Orange Jeeps played Africa. Africa fell behind towards the end of the game with only one player, Sam Thomas, junior, left to carry the team. The Daddy Dinosaurs played the Average Joes in the second game. Contrary to their name, the Average Joes conquered and advanced to the next round.
"My team's biggest struggle was throwing balls that were easily caught by the other team, but we still had fun playing together and repping our team. We are 100% coming back next year and taking the dub," Thomas said.
Title IX played the Globo Gyms in the third game, where they put up a tough fight ending the game in a tie.This led the teams to a sudden death round where the first team to have a player hit with the ball is out. The Globo Gyms escaped the death round and advanced. In the final game of round one, LSZN played Brown. Both teams fought hard, but Brown took the win advancing to round two.
"It was nice to see the kids respect the five d's of dodgeball: dodge, duck, dip, dive, and dodge," Mr. Johnson, referee, said.
Round two started with the Sick Orange Jeeps against the Average Joes. The Average Joes fell between the cracks and lost in this round. In the second game, Globo Gyms triumphed over Brown. Both games were close calls, but heading into the final round was the Sick Orange Jeeps and the Globo Gyms.
The Sick Orange Jeeps worked hard to defeat the Globo Gyms. It was a constant back and forth ending with the seniors being victorious.
"I was very excited to have a good time with my friends and be able to defend our title," Andrew McKinney, senior from the winning Sick Orange Jeeps, said.