By Josh Christensen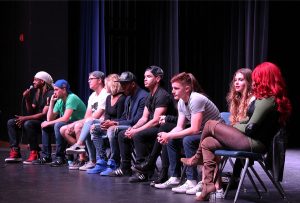 Disguised as an evacuation drill, High School Nation exploded onto the football field with the Plain White T's, games, and activities on Friday, April 28. Activities ranged from printing a personalized t-shirt, to jamming out on a plethora of musical devices, and a behind the scenes look at a tour bus.
"I had a lot of fun! The concert was amazing, and I thought the games they had were really entertaining. Getting free sparkling ice is always nice too," Matea Zelich, freshman, said.
High School Nation funded and provided the games, the music, and the experience all for the students. With money for art and music programs in schools diminishing, High School Nation works to encourage more participation in art and music in public schools. They also hosted a Q&A with the orchestra, choir, theater, and band to help answer questions and give advice to aspiring artists.
"The big part of High School Nation is to promote art in schools, and this is a good way to get it back in schools after budget cuts. Our motto is 'It's all about the students,' and this is our way of giving back to them," Andrew DeGolyer, High School Nation's tour manager, said.
The massive event was organized by Student Council, who contacted High School Nation and discussed the planning and organization with them.
"We [Stuco] were in charge of emailing and contacting High School Nation, so that we both could run smoothly on the event day. We really just wanted to do something that would be a fun and great experience for the student body" said Megan Van Alfen, sophomore, said.