By Ryan Kelleher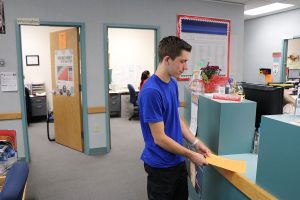 Next school year, students will have the opportunity to participate in new elective classes. Students have the option to enroll in sociology, crime and justice, and teaching.
"I'm glad the school is offering these new classes along with other classes because it gives me the opportunity to express my individuality and originality," Keagan Krantz, freshman, said.
Any student interested in enrolling in these electives should visit the counselor's office to pick up a request for a change of elective form. The paper asks students to write which class they will be dropping and which new class they wish to enroll in for next year. Turning in the paper to the counselor's office, ensures students will meet with their counselors where they will discuss their schedules for the coming school year.
Teaching I is only offered to current freshmen. The class gives participants the opportunity to learn the tricks and tips behind being a school teacher. They will receive basic information and knowledge on teaching and learning techniques.
"I think this class is being offered because it's important to promote education and to prepare the next generations of teachers early. Also, it can help kids discover a passion for teaching that they might have never known about," Nolan Phan, junior, said.
Current sophomores and juniors can enroll in either crime and justice or sociology. Crime and justice explores the world of law enforcement and the court systems. Sociology takes a look at how society functions and the social issues the world faces.
"The school wants to give us a variety of options for future careers that we might be deciding upon. They also want to give us more opportunities in careers for the future," Tehani Travis, sophomore, said.