By Ryan Kelleher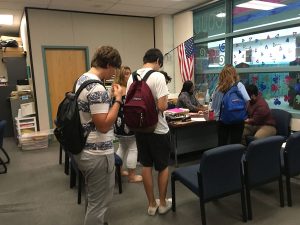 The dean's office has administered a new tardy system which began on Monday Aug. 21. From now on, when students are late to class, they must head to either the dean's office or to the athletic office to grab a tardy slip.
"As a freshman, the tardy system seems like a good way to motivate people to get to class on time. Students are going to want to avoid being late and facing the consequences," Ryan Wilkinson, freshman, said.
For this new system to work, teachers are voluntarily working in the dean's office filling out and signing tardy slips during the first five to 10 minutes of their preps.
Working the first few minutes of her prep to offset tardies does not bother Ms. Yeaton, English 11 and 10 Pre-Ap teacher. "It's well worth it to prevent the number of tardies we had last year. It's so much nicer that teachers don't have to keep track," she said.
Teachers will only accept late students who have the correct tardy slip or who have an approved pass from a teacher. If a student needs a pass from a teacher, the teacher must either give them an approved corridor pass or sign the passport in the student's agenda. Students who want an agenda can purchase one in the lunchroom for $5.
"I think the new system will only waste more class time. If someone is  30 seconds late, they have to spend extra time going around school to pick up a pass," Christian Jackson, junior, said.
Along with the new tardy system, the consequences have also changed. The dean's office will track tardies quarterly, and on the first and second tardy, students receive a warning. By the third and fourth tardy, students have dean's detention.
"I feel like the punishments are too harsh because everyone is tardy at some point. Also, teachers hold us in class too long sometimes," Ava Coulter, sophomore, said.
On the fifth tardy, parents receive a phone call and are informed of their child's behavior. A parent conference is required after a student's sixth tardy, and the deans will take further measures if a student reaches more than six tardies.
"I love the new tardy system because it gets students to class. When students are late, it distracts the rest of the students and takes away from the learning experience," Mr. Bromberg, said.
Students who are over 30 minutes late are still marked absent for that class. Just as in previous years, students can only receive 10 unexcused absences for a class, or else they will lose credit.