By Emerald Green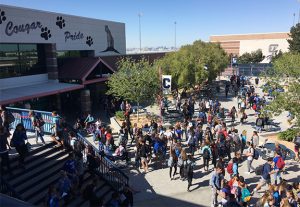 The largest mass shooting in U.S. history happened last Sunday, Oct. 1. It took place less than 20 minutes from the front doors of our school near Mandalay Bay during the Route 91 country music festival. Over 500 people have been injured, and 59 have been confirmed dead so far. On Monday, all clubs and extracurricular activities were cancelled. Any absences were excused as people mourned the lives lost in this horrific event.
In the wake of a national tragedy that took place in the backyard of the campus and literally hits so close to home, it is difficult to know what to do, even in a country that is no stranger to terrorist attacks and mass shootings.
"I was still awake after the shooting had happened, but I'd didn't find anything out about it until I woke up the next morning to turn my alarm off. I had 15-20 Facebook messages from friends across the country and as far away as Europe and South America trying to make sure that I was okay. I didn't know what they were referring to, and I looked it up on the news immediately," Mr. Aberman, AP U.S. History teacher, said.
First, stay informed by following the story on a reliable news source to help filter the information seen on social media and heard in the halls so as to mitigate unnecessary rumors.
If it has not already be done, mark someone "safe" on Facebook under the "Vegas Incident" if it is known that they are unharmed. This will let friends and family know that they are okay, a relief that will be appreciated.
For those that weren't as fortunate, it is hard to find the right words to express your sympathy because they all seem pointless. What does one say to someone that has just lost a loved one? What advice is said to someone that has just been shot?
The counselor's' doors are always open, but they especially are now during this time. Grief counselors will be visiting our school in the next few days if you or a friend need more guidance on how to deal with these confusing feelings.
"The best way students could help is to be there for their friends and family. I really hope this will open up an opportunity to show appreciation and gratitude to those affected. Teachers and especially counselors are always here to talk," Mrs. Connelly, counselor, said.
If the desire is to help those who were shot, donate blood. A single pint of blood can save three lives, but it only has a shelf life of five days. If the lines are long, stay or make an appointment. Donate blood today, tomorrow, next week and the next because people will still need it. Donors must be at least 17 years of age to donate without a parent/guardian. There are three locations in the valley listed below.
For those who are unable to donate blood, the city created a GoFundMe. All proceeds will go directly to assisting in medical costs for the victims.
"During times of great tragedy, people look for an explanation, but there isn't one for this. I just hope that this will force us to support each other and move us to be better people for our loved ones and strangers," Mr. Piccinini, principal, said.
This has become one of the worst days in our city and country's history.  A town known throughout the world as the epitome of life and fun has grown quiet and flies the flag at half-mast. On Tuesday, Cougars stood united with people all over the country wearing blue in support and solidarity with the victims of the Vegas Shooting.
Henderson
United Blood Services
601 Whitney Ranch Dr. Bldg. D, Ste 20
Henderson, NV 89104
(702) 434-1838
Las Vegas
United Blood Services
4950 W. Craig Rd.
Las Vegas, NV 89130
(702) 645-3600
Las Vegas
United Blood Services 
6930 W. Charleston Blvd.
Las Vegas, NV 89117
(702) 228-4483