By Ryan Kelleher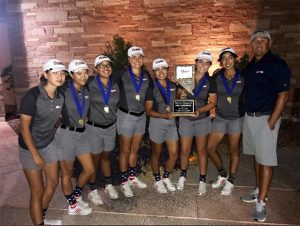 The women's varsity golf team secured their fourth consecutive state title on Tuesday, Oct. 17 at Highland Falls for the Class 4A State Tournament, having shot 600.
"I think we performed really well this season. In the beginning, we were all a little scared of the fact that we lost three of our seniors from the past season. Personally, this was my best season yet. As a team, we did not play our best until the first day of state. We were all really nervous at sate, but once we got control of our nerves, we played our best match yet," Crystle Querol, junior, said.
Four Cougars placed in the top 11 to bring the team to victory. Senior Sami Penor carded a 145 earning fourth place, Gabby DeNunzio, senior, was eighth with a 149, Querol earned ninth with a 152, and junior Victoria Estrada shot a 154 earning 11th place.
"I'm really happy for the girls and proud of their accomplishments in the past years. I'm also really happy for the girls that have been here for four years now," Coach Sawaia said.
Freshmen Rachel Beaudry and Elle Hahn along with senior Mackenzie McMillan contributed to varsity's win at state and their undefeated record throughout the season. For seniors Penor and Denunzio, this is their fourth year on varsity and fourth state title.
"One of my favorite moments would be when I was a freshman and winning the first state championship. Being a part of something like that and playing for the first state title was really special," Penor said.