By Emerald Green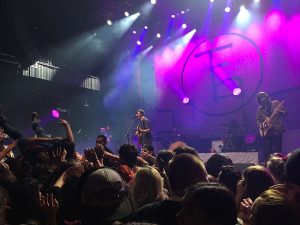 Less than a month before Saturday's show at the Brooklyn Bowl, The Front Bottoms dropped their fourth studio album, "Going Grey." Vegas was the band's 17th show on their latest tour since the album's release. Their music has been accurately described as emo, indie rock, and folk punk. They are known for lead singer/guitarist Brian Sella's raw voice that almost sounds like he's talking the band's deep, poetic lyrics.
Bad Bad Hats, an indie rock band from Minneapolis, Minnesota, opened for them. Lead singer Kerry Alexander sang three of their songs as part of the band's trio. Her sweet, soft voice nicely contrasted the hard rock and roll it was paired with. Then, English rock band, Basement played a half hour set, pumping up fans with their music, obnoxiously telling them to jump right before each song when the crowd was already getting out of control. The crowd was most hyped during their set up until the The Front Bottoms came on. After that, mosh pits and crowd-surfing became a constant. Based on everybody's reaction, it was clear that Bad Bad Hats and Basement had rocked their socks off before the headliners even appeared.
However, as soon as The Front Bottoms walked on stage, the crowd showed a new side. Between the laughing, crying, jumping, and singing, their excitement was completely nonstop between songs. The headliners started the main set of the night with "You Used to Say," followed by other fan-favorites like "Skeleton," "Flashlight," "Peace Sign," "Au Revoir (Adios)," "Funny You Should Ask," and "Twin Size Mattress." Fans screamed every word with everything they had in them. Their hands stayed in the air as if they could touch the music. The connection between them and the band was pure and unmatched. The dual-screens on the sides of the stage showcased scenes from the band's several music videos from over the years, and other B-roll added to the experience and complemented the band's passionate performance.
Even though the crowd consisted of mostly teenagers and young adults, people past their adolescence sang along to the symbolic songs throughout the evening. People that entered as strangers left as friends, having bonded over the love for their favorite band. Immediately after the concert, at least 10 fans said that it was the best show they had ever been to.
The night's energetic wound down quickly after a two-hour set with "Ocean" before singing "Happy Birthday" to a small child up past his bedtime. Sella repeatedly said throughout the night that it was an honor to play Vegas again and be at the Brooklyn Bowl, but it was an honor to have them, too. The Front Bottoms did not disgrace the Bowl's stage but instead raised a new standard for the interconnection between band and fan.