By Emerald Green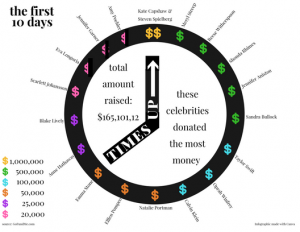 Hollywood is just as famous for its scandals as it is for its TV shows and movies, and protests have been no stranger to its award shows in recent years. The 75th Annual Golden Globes is no different, and yet it is so much more. This year, NBC broadcast the traditional event with unconventional aspects on Sunday, where celebrities of different backgrounds all donned black in an act of solidarity with anyone who is a victim of a society that protects a few and not the many.
Tarana Burke started the "Me Too" campaign in 2006, but it was recently reawakened stronger than ever following the exposure of powerful men in the entertainment industry who abused their status to sexually assault others. These men include film producer Harvey Weinstein and actor Kevin Spacey, who sexually assaulted actresses and young actors, respectively. Ashley Judd, Salma Hayek, Olivia Munn, Gabrielle Union, Angelina Jolie, Terry Crews, Anthony Rapp, and so many more recently spoke out about their gross mistreatment as members of the entertainment industry. Their courageous stories have inspired and liberated people around the world to share their experiences with sexual assault using the hashtag "MeToo."
Since the beginning of the new year, celebrities have been saying that "time is up" on the oppression and misrepresentation of marginalized groups in the workplace. The "Time's Up" campaign, originally announced in the New York Times on Monday, Jan. 1, raises money and awareness for the victims of sexual harassment, discrimination, and abuse in the workplace who do not have access to legal representation. The campaign has already raised more than 16 million dollars from over 10,000 different people in all 50 states and 60 different countries.
Over the weekend, celebrities like Rosario Dawson, Reese Witherspoon, Tracee Ellis Ross, Brie Larson, and Rashida Jones asked people all over the world to wear black in solidarity with the men and women who have been silenced. Everyone who attended the 75th Annual Golden Globe Awards did just that. The only one who appeared on camera not wearing black was the female President of the Hollywood Foreign Press Association, Meher Tatna. She wore a traditional red, embroidered dress (because in Indian culture it is inappropriate to wear black in celebration) and sported a "Time's Up" pin that many other entertainers wore on top of their ebony ensembles.
For a crowd dressed in all black, Hollywood has never been so transparent. Its uncomfortable truths were on display throughout the night. During his opening monologue, Seth Meyers attacked the issue head on with several jokes that made bitter fun of the recent shift in Hollywood and acknowledged his ironic white male identity.
In addition to blasting their social media, many actresses used their acceptance speeches during the live telecast as another platform to discuss the injustices in a society where sexual harassment has become so normalized. Oprah Winfrey delivered a powerful speech that brought many of her fellow entertainers and audience members to tears as the first black woman to be honored with the Cecil B. DeMill lifetime achievement award. Spectators experienced chills as she embodied the hope of a better tomorrow where, "Nobody has to say 'Me, too' again."
This is not a moment; it's a movement. It is clear that this award show has set the stage for the rest of the season. While the award show had a darker tone than most, it shed the most light on some of the biggest problems that have faced humanity for centuries. Sunday's 75th Annual Golden Globes started the year off with an aggressive new social and political atmosphere that says people will not be sitting around waiting for change and justice in 2018.