By Kiley Brown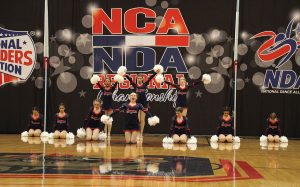 The JV and varsity dance teams competed at the National Dance Alliance competition Saturday, Feb. 3 at Coronado. NDA is a regional competition that prepares dancers for the national competition in Florida.
"It felt great," JV Cougarette Emma Rebarchick, sophomore, said. "It shows that all of our hard work paid off, and we are really happy about the result. We had practice everyday for three hours, even on weekends to prepare."
The varsity dance team, competed in two categories, pom and jazz. They placed first place in both of their routines. Pom is an upbeat dance, each using pom pons,  consisting of sharp movements and toe touches.
"I was very excited and we all felt so accomplished," varsity Cougarette Lauren Hirsch, junior, said. "I couldn't feel prouder and I knew all of our practices and preparation would pay off. "
Both teams practice everyday, and practices can last up to six hours. They go through every motion of the routines making sure everyone is on beat and synchronized. JV competed in the same categories as varsity. They received second in pom and first in jazz.
"It felt really rewarding knowing that by taking home two first place awards, that the countless hours spent practicing and tedious work we've put into these pieces led to such great accomplishments," Almeido said.
Captain Lexi Almeido, senior, placed first out of 16 dancers in the varsity solo category, and Danika Humphries, freshman, placed first in the junior soloist category.
The Cougarettes' next competition is on Feb. 17, at UNLV for the Nevada Open.