By Lexi Lane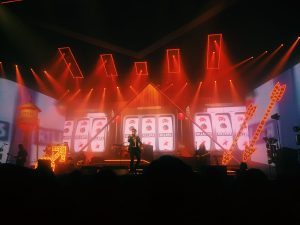 The lights in the MGM Grand Garden Arena late Saturday night began to dim. The screams of the crowd knew what was to come. One by one, each member of local alternative rock band, The Killers, took their places on stage. Once lead singer Brandon Flowers appeared, the night was ready to rock.
The band performed a wide variety of songs off of their discography – from older hits of the 2004's debut "Hot Fuss" including decade-old favorites like "Jenny Was a Friend of Mine," to current ones from their latest release. Flowers chose to start the show with songs from "Wonderful Wonderful" playing the album's title track, "The Man," and "Run For Cover." It was a good choice as an opener – current enough that all ages attending would have a chance to know the track and hype up the crowd.
The stage set-up during their performance was extraordinary and theatrical, making it even more of a show to remember. From confetti pouring out of the ceiling covering the crowd during the second song, to light shows with lasers and giant screens on the back of the stage, The Killers used every new creative trick to their advantage.
After all of this, one of the most memorable moments was when the band invited a local fan to replace Ronnie Vannucci Jr. on the drums to play them herself. With Vannucci making sure she hit the right parts at the right time, the fan knew exactly what to do and didn't miss a beat, resulting in a standing ovation from the crowd when "For Reasons Unknown" finished.
The band,after closing the show with "All These Things That I've Done," returned for four more encore song performances, including "Sam's Town" to pay homage to their hometown of Las Vegas and their biggest hit "Mr. Brightside"- making it the perfect way to end this stop on their tour.