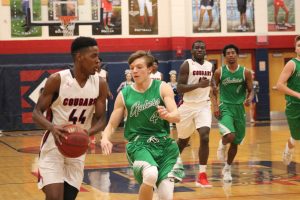 Men's Basketball
By Ryan Kelleher
In a home match against Green Valley, freshman Jaden Hardy contributed 35 points to lead varsity men's basketball team to a 94-68 victory.
"This was a great win for the team." Max Howard, sophomore, said. "Everyone was getting to play and doing great on the court. I'm really excited for our last few games."
The Cougars were able to stay on top throughout the game. By the end of the first quarter, Coronado was up 24-18, extending the lead  into the second quarter, 45-31. Taieem Comeaux, senior, prevented a Gator comeback in the second half with 17 rebounds and 25 points. Tyrelle Hunt, sophomore, also contributed with 11 rebounds.
Men's basketball has two league games left in the season and currently sit with a 6-2 conference record. Their next and final home game is on Wednesday, Feb. 2 at 6:30 p.m. against the Liberty Patriots.
Girls Basketball
By Rayne Hayes
In a close game against the Green Valley Gators, the varsity women's basketball team secured a 58-53 victory on Friday Feb. 2 at home.
"As the season is coming to an end it is really important for us to be securing these wins, no matter how close the score is, to boost our confidence going into our last game against Liberty," Haley Morton, junior, said.
Haley Tyrell, senior, was the top scorer gaining 20 points with Aeryn Hawkins, senior, trailing with 16. Tied 24-24 at half-time, the Cougs knew the game could go either way. Determined to take the lead they gained 13 more points putting them 37-34.
Their current league standing is 7-1. Their last home game is against Liberty on Wednesday, Feb. 7 at 5 p.m.
Flag Football
By Sage Tippie
Flag football continued their winning streak last week, taking the Gators down 26-12 at home on Thursday, Feb. 1.
The Cougs remained quiet in the first quarter, keeping an even zero with the Gators. Things started to pick up second quarter with seven points for the Cougs. They secured their win during the second half, earning 19 points. Caitlin Shannon, junior, led the team to victory with two touchdowns and one interception. Senior Jensen Boman, junior Reagan Raimer, and sophomore Taylor Burton each earned a touchdowns for the Cougs. On the defending end, Giovanna Coelho, senior, made seven tackles alongside junior, Lexi Potts, who secured six.
"It feels so good to be doing so well in our games this season," Shannon said. "We have gained a lot of confidence as a team and have worked really hard together to get to this level of success. I really hope we can keep it up going into the end of the season."
Cougs will play their next home game of the season on Wednesday, Feb. 7 at 4:30 p.m. versus Liberty.