By Ainsley Davis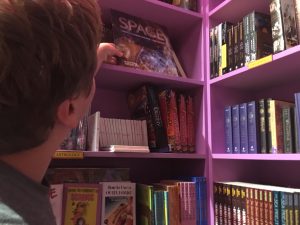 Walking into a bookstore can be a magical experience: rows of glossy covers, a quiet atmosphere, and the aroma of books. Some stores go beyond the traditional experience and sell everything from crystals to taxidermy to rare comic books, creating allure for more than just bookworms.
"It's a good idea to have bookstores that sell more than just books because then there's something for everyone," Clara Applegate, sophomore, said.
At The Writer's Block, on 1020 Fremont St., staff and qualified volunteers teach free writing workshops for ages 5-18 where they design and construct novels, short films, screenplays, magazines, animations, and documentaries. The workshops take place in the store's writing studio, the Codex. There's also an artificial bird sanctuary with taxidermy birds like cardinals to "adopt."
"I really loved the atmosphere of the store," Elizabeth Berry, sophomore, said. "It has the feel of an old book store, but with a modern twist. The taxidermy is cute, they have fake birds for adoption but act as though they're real. It's really great if you can't have a pet."
Psychic and tarot card readings are offered along with books at Psychic Eye Book Shop. Located at 6848 W. Charleston Blvd., the store sells natal charts, which use a person's birthday, the time they were born, and the place they were born to provide information on their strengths, weaknesses, and lucky days. The experts can interpret a chart or create charts for specific information like relationships or compatibility. In addition, there are books on magic, dream interpretation, conspiracy theories, herbs, and items like essential oils, tarot cards, and unique jewelry.
"The Psychic Eye Book Shop mostly consisted of books on witchcraft and zodiac signs, but my favorite part was probably the uniquely shaped mood rings," Micayla Hoff, junior, said.
Unicorn plushies, statues, and figurines are scattered around Amber Unicorn Books. At one end is a wall of rare editions with swirled gold detail. The store, at 2101 S. Decatur Blvd., Suite 14, sells rare and antique books, along with books on topics like military, self-help, romance, fiction, and horror. Customers can trade for in-store credit; up to half of a purchase can be paid for in used books, and any credit left over can be saved for a future visit.
"I really want to go to Amber Unicorn Bookstore because I have so many old books that I could trade for new ones," Maria Early, junior, said. "Other bookstores can be expensive, but I still love reading paper books, so this store is perfect."
Posters, t-shirts, and art prints adorn the walls at Alternate Reality Comics.The store is located at 4110 S. Maryland Parkway #8. Although not technically a bookstore, they sell a variety of comic books, from classic superheroes to rare underground titles. They also have merchandise like key chains, posters, and action figures. The mascot is a green lizard named Epstein invented by local artist Keir Eastveld. Book signings and free comic book days are announced on the store's website.
"I liked looking at the different art styles in the comic books," Drew Davis, freshman, said. "The store has a lot of variety and it inspired me to change up my own art style."
Although traditional bookstores are perfect places to shop for books, these unique bookstores can offer new experiences and mystery along with their hard covers and paperbacks.