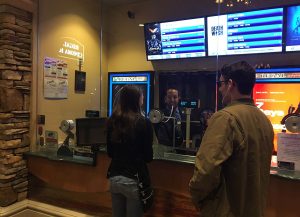 Dear Homo sapiens,
The world's latest highly-anticipated romantic comedy, "Love, Simon" was released Friday, March 16, and it deserved all of its preempted hype. It's centered around a high school boy who is  still in the closet and his romance with an another anonymous gay student. It's based off of the book "Simon vs. the Homo Sapiens Agenda" by Becky Albertalli. The film adaptation was a huge success: it earned a 96% on Rotten Tomatoes and made over $11 million during its opening weekend. It features a new outlook on relationships and acceptance.
At first, "Love, Simon" seems like every other heterosexual 90s romantic comedy, but it really is about discovering sexuality and identity. Straight actor Nick Robinson plays Simon, a junior who questions today's social norms and challenges what people assume about members of the LGBT community. The movie answers the fears of teens who are afraid of being accepted into society for who they are.
Simon's friendships are significant to the movie's central storyline and Simon's adventure in accepting himself and allowing others to accept him as well. Simon's best friends are Leah (Katherine Langford, "Thirteen Reasons Why"), Abby (Alexandra Shipp), and Christian (Jorge Lendeborg, Jr). A big part of the film is how Simon's friendships weather the secrets and revelations of his love life. This has a large impact on viewer because it shows how sexualities shouldn't change how people see one another.
The best part of this movie is it's healthy family relationship. Too many movies with teens as their target audience feature one or more abusive family members or some type of broken household. Especially considering Simon's story, it is so important for kids to see positive reinforcement from parents who often "just don't understand" their kids. His mom (Jennifer Garner) uses her therapeutic experience to navigate this new aspect of her son's adolescence while his dad (Josh Duhamel) promises to support his son in his future relationships. Duhamel and Garner effortlessly display the human capacity for sympathy and the love that parents have for their child.
The soundtrack matched the mood of every scene and really gave the audience a direct sense of the tone of the movie. It included jams like Bleachers' "Rollercoaster" and Khalid and Normani's "Love Lies" and classics Whitney Houston's "I Wanna Dance With Somebody (Who Loves Me)" and The Jackson 5's "Someday at Christmas" as the plot progresses through the school year.
The movie highlights that the fight for tolerance isn't over, but that the movie has been made and has been so popular is a step further in the direction of progress. The movie is mostly fun and light-hearted, but there are also scenes that will bring audiences to tears. It's the kind of movie someone could watch again and again and love it just as much as the first time. Everyone who watches it will definitely "Love, Simon."
Love,
Maddie Baker