Men's volleyball
By Ryan Kelleher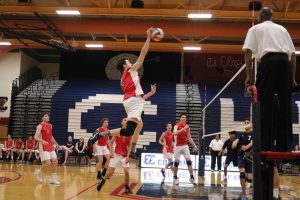 Men's varsity volleyball crushed the Canyon Springs Pioneers, 3-0 in a home match on Tuesday, April 3. Ben Bloss, senior, led the Cougs with nine kills and three aces, while setter, Alex White, junior, contributed with 19 assists and two digs.
Varsity previously defeated the Pioneers at a tournament, making the Cougs confident in another victory at home. This confidence was clear when Coronado won the first set, 25-15. The Cougs also swept the second and third sets, 25-7 and 25-18. Randy Cowles, junior, helped secure the win with seven aces and five kills.
"The game against Basic was definitely a stepping stone in our season," Cody Sciabica, senior, said. "This was our first game when we all came together as a team to achieve a common goal."
The Cougs also defeated the Basic Wolves, 3-2 on Thursday, April 6 at Basic. The Wolves provided varsity with tough competition, but the Cougs still managed to win, 25-23, 22-25, 25-19, 18-25, 15-8. Their next game is Wednesday, April 11 at Rancho.
Varsity Swim
By Joshua Christensen
The varsity swim team defeated Foothill at Heritage on Saturday, April 7. The men scored 176 to Foothills' 136 and women scored 185 to 129. Coronado's swimmers for the meet were sophomores Kobe Barbarita (500 Free), Jett Joncich (200 & 500 Free), Kaya Rodrigues (200 & 500 Free), and freshman Vanessa Soltysek (200 & 100 free).
"Dropping six seconds at this meet means a lot to me because our team has been putting in a lot of hard work this season," Rodrigues said. "It's awesome to see it all paying off, especially in a more competitive meet like this one."
Coronado's next meet is against Rancho and Canyon Springs at the Henderson Multi-generational on Saturday, April 14.
Varsity Softball
By Saveria Farino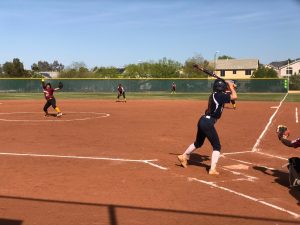 The Cougars came back from break strong, shutting out the Eldorado Sun Devils 10-0, on Wednesday, April 4. With four runs and one RBI, captain Tatum Spangler, senior, helped her team to secure the win
Their winning streak continued on Thursday, April 5 dominating Las Vegas High School 18-1. The game lasted for a total of three innings because the Cougars were so far ahead. With five runs in the first inning, nine runs in the second, and four in their third the Wildcats could not compete.
"I think the key to a successful game is everyone being engaged in the game and cheering on others no matter what," Spangler said. "We need to be able to trust each other, and the game will go in the right direction for us."
In an intense game, the team came close to another win but lost 4-3 to the Basic Wolves. The Cougs started strong with two runs in the second inning, but Basic quickly recovered scoring three runs in the third. Both teams earned one run in the fifth inning, and no points were scored for the rest of the game. Captain Madison Stevens, junior, fought hard for her team with one hit and one RBI.
"After you lose a game you take back the things that you could have done to win that game like take away the errors, and look at what we could have done better," Stevens said. "Then go to practice and work on it. The next time we face a challenging team we will play with more intensity throughout the whole game and score early."
The Cougars played their Hits for Hearts game on Saturday, April 7. Hits for Hearts was a fundraiser hosted for Coach Sosa's four-year-old daughter, Olivia. Olivia was diagnosed with Congenital Heart Disease and had her first open heart surgery last summer. She will continue to have surgeries throughout her life. With Green Valley High School's help, a total of $1,000 was raised.
"Olivia is just four years old, and every time she comes out to our games, she exudes so much happiness and life," Captain Veronica Jarchow, senior, said. "She's been out on the field since she was born, and we love to have her around. We are also very grateful for everything Green Valley did for Olivia and the game. They put together a giant gift basket for Olivia and her sister and helped us raise money."
Varsity Baseball
By Bryce Becker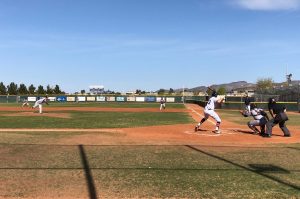 The men's varsity baseball went home with a 13-0 shutout against Eldorado on Wednesday, April 4. The Cougs started off the first inning with two home runs and did not stop there. During the next two innings, Coronado made six homers leaving Eldorado behind. While the defense kept the Eagles from scoring, Taylor Darden, senior, and Matthew Galdi, junior, both made three RBI's.
"We're on a good run this week giving us momentum for each game," Kyle Hall, senior, said. "We're going to keep taking one game at a time and go in with confidence."
Following their victory over Eldorado, the Cougars played Las Vegas High school on Thursday, April 5 and were able to take the win 6-4. Next, on Friday, April 6 the Cougars faced Basic but were unable to make a come back on Basic's 10-2 lead. The Cougars did not stop as they beat Green Valley 14-7 on Saturday, April 7. Seniors Boston Mabeus and Cade Printy both made homers, denying Green Valley a win.
Their next home game is against Valley on Wednesday, April 11 at 3:30 p.m.