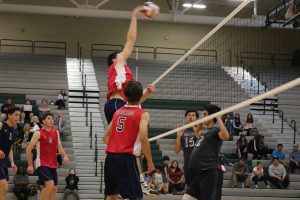 Men's Varsity Volleyball
By Josh Christensen
Men's varsity volleyball went 3-0 against Eldorado on Tuesday, April 10, and 3-0 again against Rancho on Thursday, April 12. Ben Bloss, senior, led the Cougs against Eldorado earning 13 kills, and Cody Sciabica, senior, led against Rancho securing 12 kills.
Varsity confidently defeated the Sun Devils at home adding to their 19-14 record. The Cougs started off strong winning the first set 25-13 and maintained their confidence throughout the match finishing the second set 25-10. Eldorado picked up steam in the third set but still fell short at 25-16.
Rancho proved more of a challenge to the Cougs but not enough to defeat them. Coronado came out strong scoring 25-20 in the first set. The Rams were demoralized only scoring 15 in the second set, but rebounded in the third set to score 19 before eventually losing to the Cougars.
"These games were a good confidence booster to the team before our Chick-Fil-A tournament in California," Matt Wilson, senior, said. "The California teams won't be as easy to defeat."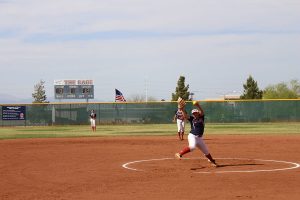 Women's Varsity Softball
By Rayne Hayes
Women's varsity softball stormed the field last week securing four wins against Valley, Las Vegas, Canyon Springs, and Desert Oasis.
The Cougars shutout the Valley Vikings, 15-0 on Wednesday, April 11. They started off the first inning strong with a 12-point advance. In the second inning, they secured three more home runs ending the game.
"This season has been great overall," Veronica Jarchow, 12, said. "Though we've lost some games, we've bonded well as a team and been able to work really well together. I'm most proud of the fact that we have been able to make adjustments well, and everyone is working hard every day to get better."
Coronado achieved their second win of the week, 16-6 on Thursday, April 12 against Las Vegas. The first inning was quiet, with no runs, but the Cougars turned up the heat in the second inning earning five runs. The second inning the Wildcats brought in two runs in an attempt to make up the lost points; however, the Cougars got two more points making the score in the second, 7-2. In the third, fourth, and fifth innings they continued to dominate getting 11 points to the Wildcats six points.
In their second shutout of the week the women prevailed securing a 16-0 win on Friday, April 13. In the first inning they earned 11 runs and had five in the.second.
The Cougars also displayed no weaknesses away at Desert Oasis, winning 10-0 on Saturday, April 14. The women's varsity league record is currently 11-2.
Their next home game is against Silverado on Wednesday, April 18 at 3:30 p.m.
Swim and Dive
By Ryan Kelleher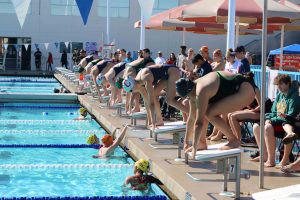 Varsity swim and dive defeated both Rancho and Canyon Springs at the Multigenerational Center on Saturday, April 14. The men's team won 219 to Rancho's 58 and Canyon Springs' 34. For the women's teams, the Cougs prevailed 206 to Rancho's 84 and Canyon Springs' 29.
Contributing to the men's victory Mark Beard, senior, earned first in the 200-yard freestyle and 100-yard backstroke while Brandon Nellis, senior, scored first in both the 100-yard freestyle and the 200-yard individual medley. Sophomore Jade Hughes led women's varsity placing first in the 100-yard breastroke and 100-yard freestyle. Samantha Nguyen, freshman, pitched in with 197.2 points on the one meter springboard event.
"With state less than a month away, I think both teams are in good shape, and with a little more conditioning, we'll be golden," Michael Luna, sophomore, said.
Varsity's next meet is against the Green Valley Gators at the Multigenerational Center on Saturday, April 21 at 8:00 a.m.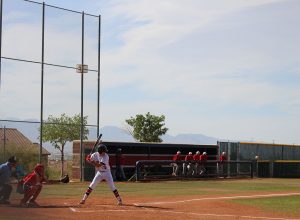 Varsity Baseball
By Bryce Becker
The men's varsity baseball team defeated Valley High School on Wednesday, April 11 and finished with a crushing 20-1 victory. In the first inning the Cougs scored 11 on Valley Kyle Hall, senior, making three RBIs and two runs. Seniors Boston Mabeus and Joey Calvert, junior, Max Fernandez, and sophomore Josh Johnson all earned two RBI's.
"Each score gave us more and more momentum, and we just kept playing our game and did not get lazy," Hall said.
Next, the Cougs went up against Las Vegas HIgh School on Thursday, April 12 and came out on top, achieving a 6-4 victory. Keeping the winning streak going, Coronado beat Canyon Springs in a tight 2-1 game on Friday, April 13.
The Cougars next home game is on Wednesday, April 18 against Silverado at 3:30 p.m.