By Alli Gray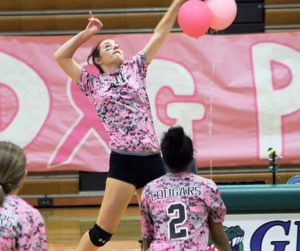 While the crowd cheered and the girls struggled to get back into the fifth set in their semi final game, Madison Karcich, varsity volleyball captain, fought back and went on a serving run, earning five critical points helping her team move forward in the game.
Karcich's volleyball skills and hard work at school earned her a scholarship from Cal Lutheran University. On April 11, she signed her commitment to play for them this fall, where she plans on majoring in film studies.
The Roar: How did it feel to have a college come to you with this offer?
Madison Karcich: It was gratifying knowing my hard work actually paid off.
T.R.: What activities in school and out of school do you participate in, and what do you enjoy about them?
M.R.: I am captain of varsity volleyball, and I play club volleyball for Exposure. I also play sand volleyball with 702 sand. I'm in theater tech, and I've been tech director and set designer the last two years. Along with that, I've been in AP Academy all four years of highschool. I love all the friendships I make and the different people I get to meet.
T.R.: What has being volleyball captain taught you?
M.K.: Getting the chance to be captain has taught me how to be a leader and how to work with different types of people and their perspectives.
T.R.: What are some accomplishments you have made at school?
M.K.: For volleyball, I won coach's pick this year from Coach Matt Johnson, and as a team, we won first team for all conference, league, and region. We also won second team all state, which means we're the second all-star team in the state. For theater tech, I was able to direct "Bells are Ringing," and that was really accomplishing. I made the set up completely from my head and designed it on paper. It felt good to see everything I came up with on my own on stage.
T.R.: Which teacher(s) at school have inspired you?
M.K.: Ms. Moss inspired my creativity in writing, and Ms. Burrows taught me a lot about leadership and time management, as well as what I plan to do with life. Mr. Bzinak taught me to never give up on something difficult and helped me learn good study habits.
T.R. : What do you enjoy doing in your free time or with friends?
M.K. : When I have free time, I like to relax, get comfy, and watch Netflix. With friends, I enjoy hanging out, seeing movies, and driving places.
T.R.: How have your friends influenced you throughout high school?
M.K.: My friends inspired me to be more outgoing and assertive in my life.
T.R. : If you were able to go through high school again, what would you change? What advice do you give to other students?
M.K : I wouldn't change anything besides not enrolling in AP Academy and sticking to AP classes. It forces many kids into classes they might not be ready for yet. I would tell students to always do their work because, in the end, it matters.