By Lexi Lane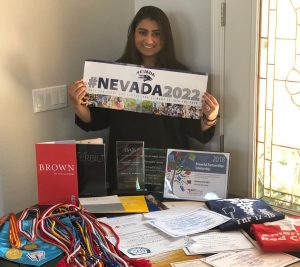 Students who have been in any clubs during the past four years most likely know her name. From being the President of four clubs: Future Medical Professionals, American Red Cross, Cougars 4 Change, and Model United Nations, as well as holding board positions in other clubs, including Public Relations for National Honor Society, Leo Club's historian, and playing competitive tennis for a decade outside of school, senior Ashna Parikh has done it all.
"I love being active in a variety of clubs and activities. It has helped me meet so many of my closest friends, and make so many memories. I have learned how to time manage, lead, and build my character." -Ashna Parikh
The Roar: Has it been hard to juggle so many different clubs with schoolwork? Have you had any struggles, and if so, how have you overcome them?
Ashna Parikh: Honestly, yes. I've felt overwhelmed and stressed out so many times, but by staying calm, keeping a positive outlook, and with the help of my board members, I have been able to keep everything in track while maintaining a good academic standing.
TR: What are your plans after graduation?
AP: I hopefully plan to end up in medical school to pursue my dreams of earning my MD with a masters in Finance. I plan to attend UNR.
TR: What interests you most about the medical field?
AP: I have a strong belief in treating the patient, not just the disease. I find that helping people is the most amazing thing about medicine, and doing so with an altruistic heart. With all the volunteer and charity work that I do, I also volunteer weekly at St. Rose Hospital. I absolutely love dedicating my time to the welfare of others. Along with this, the science aspect is also invigorating. Science has always been my favorite subject, and with my free time, I often sit in lectures or take extra courses about biochemistry, genetics, and other scientific fields.
TR: What do you do as a volunteer at the hospital?
AP: I do a variety of things, from running the front desk, answering calls, filing, discharging patients, and running errands for the nurses and doctors. I have also shadowed a few physicians there.
TR: How has leading clubs such as Future Medical Professionals and American Red Cross prepared you for the medical field?
AP: Being in clubs has helped me develop teamwork and compromising skills, how to stay organized, and time management. I also gained experience in teaching others about medical fields by conducting labs and lessons, as well as lead groups in community service events.
TR: What do you do for fun outside of school?
AP: I hang out with friends a lot – we like to try new food/drink places every time: Blaze Pizza, Brew Tea Bar and Fiiz.
TR: Has your family been supportive of medical school or how have they influenced you?
AP: We've had some family drama with extended family – mostly doctors ironically – which has resulted in discouragement, but my close family has been more than supportive. My parents have always told me to do what I love. My dad is a physician, and he's told me to try other things before committing to medicine. My mom has always known I would be a doctor and continues to support me in every way possible.
TR: What advice would you give to incoming freshmen or students, knowing what you know now?
AP: I would tell them that grades don't mean everything. Make sure they are a well rounded student and involve themselves in everything and anything they like. Be kind and friendly to everyone you meet, even if you don't get along well. The four years go by so fast, so make sure you set your goals and aspirations early, so you have room for change and know exactly where you're headed.