By Emerald Green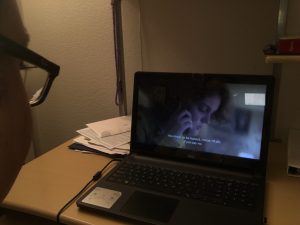 Netflix excited fans for the release of its next romantic comedy after the success of "To All The Boys I've Loved Before." The highly-anticipated "Sierra Burgess Is a Loser" started streaming on Friday, Sept. 7. It is a tale of catfishing and a modern take on the play "Cyrano de Bergerac." Sierra Burgess (Shannon Purser) is a senior, struggling to figure out what makes her special in order to stand out on college applications when she receives a text from an unknown number.
The film stars two veterans of Netflix Originals: Purser (Barb from "Stranger Things") and Noah Centineo, who stole the hearts of millions as Peter Kavinsky in "To All the Boys I've Loved Before." Sierra is smart, funny, and independent, but she isn't what society would consider "hot" because she doesn't fit into its current beauty standards. Purser plays the titular character effortlessly, brilliantly balancing confidence and self-doubt.
Centineo is Jamey: the loveable, soulful, naive quarterback from another school that believes he is talking to the hot cheerleader he met at a diner. After just two successful rom-coms, Centineo has cemented himself as a leading man and one of Hollywood's youngest in a line of talented heartthrobs like Tom Hanks, Matthew McConaughey, and Mark Ruffalo. Much like these actors, Centineo brings something special to every role and gives his charming characters the gifts of immortality. Purser and Centineo share an "unreal" online chemistry.
Friendship is a major theme of this film. The choice to make Dan (RJ Cyler) Sierra's best friend destroys the myth that boys and girls can't be friends without sexual attraction getting in the way. However, the character's sassy comments feel as if the token black girlfriend that spouts advice, like the modern Greek choir included for comedic purposes, was simply replaced with a male.
The most dynamic character of the film is Veronica (Kristine Froseth), Sierra's bully in the beginning of the movie and one of her best friends in the end. This character demonstrates that hurt people hurt people and showcases the possible damaging effects of the pressures that come from society placed on young girls to look a certain way. There is good and bad in everybody. These once-enemies learn to understand, help, and even support each other— something that people with differences have trouble doing, especially today.
Sometimes, the only way that characters can express themselves is through song. "Sunflower" was a surprise element to this film not advertised as musical. Originally intended to satisfy an English assignment, the combination of powerful lyrics and (Purser's) voice captured the honesty of Sierra's rationality and emotions.
The film includes a myriad of beautiful messages important for audiences to learn or be reminded of. It is comforting to watch seniors on the cusp of adulthood who are still trying to figure out who they are, what they stand for, where they belong, and with whom. It is a love story about finding love, learning to love yourself, and accepting both. Everybody is special, so don't compare yourself to others. Surprisingly, this only scored a 65% on Rotten Tomatoes. The film has received criticisms for romanticizing catfishing, but as the main plot point, it allows for important messages and life-lessons. These characters are not perfect, and that is the point. Perhaps these critics from an older generation do not understand the new challenges present amongst today's teenagers, technology and romance.