Varsity Women's Soccer
Riley Cable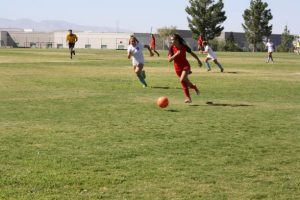 Women's varsity soccer defeated Foothill 3-0 at their home game on Wednesday, Sept. 12. The Cougars played a tough first game against Foothill, but with goals from seniors Kaitlyn Kowalchuk and Haley Meusy, and sophomore Gianna Irungaray, they were able to secure the win.
"I think what helps us so much is that we practice just like we play in a game by working on runs our forwards make or doing small scrimmages constantly so that we can work on improving our passes," Taylor Book, junior, said. "Overall, when we practice with the same intensity as we do in a game, it improves our playing a lot."
The women's varsity team won their away game 5-2 on Thursday, Sept. 13 against Sierra Vista. Their next game is on Thursday, Sept. 20 versus Tech.
Tennis Brief
By Sage Tippie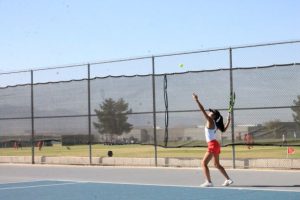 Last week in varsity tennis the boys and the girls won 13-5 against Bishop Gorman in a home match on Wednesday, Sept. 10.
The boys aced their game against the Gaels, earning them a score of 13-5. Senior Ethan Quandt and junior Sebastian Frace each won their round of singles 3-0.
"Winning against a private school like Gorman meant a lot to us as a team," Megan King, junior said. "I'm really excited to see where the rest of the season takes us, and I think we're headed towards State."
The Cougs defeated Gorman in the women's matches 13-5. Sophomores Ava Nhaisi and Sidra Wohlwend won their round of doubles 2-0, leading the Cougs to victory. Winning their round of doubles 2-0 as well, freshman Kennedy Buntrock and sophomore Paige Furin took down the Gaels.
The Cougs will face off against the Basic Wolves at their home game on Monday, Sept. 24 at 3 p.m.
Cross Country
By Ryan Kelleher
The women's varsity cross country team placed second in the first Southeast League meet of the season on Wednesday, Sept. 12 at Foothill. Foothill won the meet with 15 points, while the Cougs scored 62 points, beating rivals Green Valley and Liberty. Junior Sara Moon placed 10th overall with a time of 20 minutes and seven seconds.
"We have to practice harder if we want to see better results," Madisyn Selva, junior, said. "We have to keep improving in order to beat some of our rivals."
Men's varsity cross country placed third out of nine teams finishing with 77 points. Cross country's next meet is on Tuesday, Sept. 25 at Sonata Park.
Women's volleyball
By Lulu Clemmons
Women's volleyball placed 45th this weekend in the annual Durango Fall Classic tournament, one of the biggest in the country.
Starting out on home court, pool play for day one started at one o'clock against Mercy Academy (KY), ending in a loss. Volleyball came back strong in the third set of the second game against Ironwood H.S.(AZ), but couldn't maintain their winning streak against Lakewood H.S. (CA), losing in two sets.
"Going into it I was really nervous, but I ended up having an amazing time playing top level teams, and I'm excited for next year," Brooke Dobson, sophomore, said.
With a third place spot, the Cougars placed into bracket play at Palo Verde High School. Starting off with two losses against Archbishop (CA) and Liberty H.S. (CA), they came back in the next two games. Defeating Villa Park H.S. (CA) and Green Valley in two sets, the Cougars left on a high note, finishing off with an even three to three win and loss ratio. The Cougars came out as the second highest ranking team of the weekend.