Men's varsity soccer
By Bryce Becker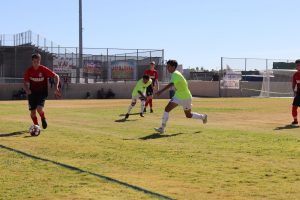 Men's varsity soccer destroyed Basic 8-2 in their home game on Tuesday, Sept. 25. The Cougars started the first half with high intensity, scoring seven goals. Junior Andrew Siciliano scored a goal followed by junior Lincoln Aquino's two goals and two assists. Senior Alfredo Diaz scored four goals and Ai'Jaion Bonsu, senior, scored a goal. The Cougars then kept possession in the second half to finish 8-0.
"Our team is doing well, and as we are preparing for state, each game is a lesson to learn from to train harder and play as a team," Taye Adams, sophomore, said.
The Cougs won a second home game 2-1 versus Spring Valley on Thursday, Sept. 27. The first half went by scoreless, but in the second half, the Cougars scored two goals from Diaz and senior Brock Rideout.
The Cougars' next game is an away game versus Liberty on Wednesday, Oct. 3. The Cougs are 4-0-1 in the league.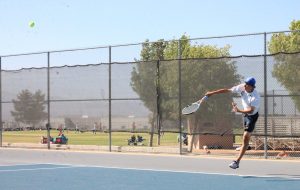 Men's and Women's Tennis
By Sage Tippie
Last week in tennis, both varsity boys and girls swept away the competition, winning all four of their matches against Basic, Spring Valley, Tech, and Desert Oasis.
In their Monday, Sept. 24 home match versus Basic, the boys defeated the Wolves 17-1. Seniors Colin Peltier and Akhil Mohan boosted the Cougs to victory, earning 2-0 in their round of doubles. In their Tuesday home match against Spring Valley, the boys took 17-1. Senior Scott Hobbs and junior Richard Byun swept their round of doubles 2-0. The boys finished off the week with victories at their away matches on Wednesday and Thursday versus Tech, 17-1, and Desert Oasis, 13-5.
"This last week was so great for our team," Hobbs said. "Winning all four matches was such a confidence boost as we head towards the ending half of the season. We just need to continue to perform how we've been performing."
The girls also kept it clean throughout the week, kicking it off with their Monday win against Basic 17-1. Senior Rayne Hayes and junior Sophia Potamitis conquered the Wolves in their round of doubles 2-0. Versus Spring Valley, the Cougs earned 16-2. Freshman Sydney Osburn boosted the Cougs to victory in her round of singles 3-0. Finishing off the week strong, Coronado won 18-0 against Tech and 12-6 against Desert Oasis.
Women's varsity volleyball
By Lulu Clemmons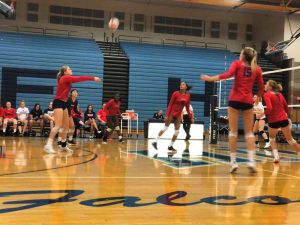 Women's varsity volleyball took the win over Clark High School at their Monday, Sept. 24 away game. The Cougs won in three sets 25-7, 25-8, and 25-16.
"It wasn't one of the toughest teams we'll play this season," senior Sasha Bolla said. "We definitely bond as a team though and supported each other the whole night."
All together, they got 33 kills, 20 aces, two blocks, 31 digs, and 33 assists making the overall win-loss ratio 16-5-0.
Women's volleyball also took on the Foothill Falcons on Wednesday, Sept. 26. The Falcons fell in only three sets with the final scores being 25-20, 25-19, and 25-15. The Cougs accumulated 42 kills, eight aces, seven blocks, and 51 digs.  
"It was a tough game, but we all came together and played as a team," sophomore Cassandra Smith Van Oyen said.
The Cougars now have 17 wins and those two consecutive wins to set them in the right direction for next week's games against Durango and Bishop Gorman.
Women's Varsity Soccer
Riley Cable
Women's varsity soccer kept their winning streak ending with two wins this past week. They beat the Basic Wolves 8-0 at their Tuesday, Sept. 25 away game and also secured a win in another high scoring at Spring Valley High School on Sept. 27. The final score was 9-1.
"Although we are on a winning streak right now, we definitely haven't slowed down," Stella Poste, freshman, said.  "We all really want to win state this year, so we're working extra hard and building on things as a team."
Their next game will be at home on Wednesday, Oct. 3 at 3:00 versus Liberty High School.
Cross Country
Ryan Kelleher
Men's varsity cross country placed first out of 11 schools at the Coronado Meet on Tuesday, Sept. 25. The Cougs had 21 points and beat rivals Silverado, 63, and Basic, 163. At the same meet, women's varsity cross country placed first out of nine teams with 24 points. Coronado's Brendan Graves, junior, placed second in the men's race, while Claire Rawlins, sophomore, earned second for the women.
"I'm really proud of our performances at Tuesday's meet," Madisyn Selva, junior, said. "Everyone ran really well, and it was all worth it when we won."
Both teams competed again on Saturday, Sept. 29 for the Falcon Invitational at Foothill. For the men's Freshman-Sophomore Race, the Cougs placed third out of 30 schools with 114 points. Sophomore Ashton Zaldi led the underclassmen Cougars, earning 13th place. Graves placed 14th in the Junior-Senior Race and led the Cougs to a second place finish.
For women's Freshman-Sophomore Race, Coronado placed second overall and sophomore Erin Shannon contributed with a second place finish. In the Junior-Senior Race, Rawlins earned first, and Coronado placed second out of the 30 teams. Both men's and women's varsity teams race again on Tuesday, Oct. 2 at Sonata Park.