By Lulu Clemmons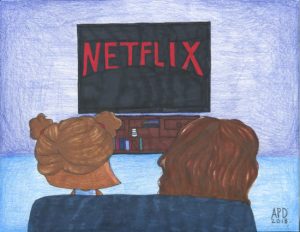 In today's day and age, binge-watching is a one of the most popular hobbies. Anyone with a streaming subscription has binge-watched at least one TV show. With the abundance of shows being streamed, shows that are different and not following society's norm are judged too quickly. These people need to realize though that they shouldn't just judge the idea of the show, but instead they should analyze them for the deeper meanings and form their own opinions and not just adopt someone else's.
Netflix, the biggest online streaming company to this date, has two of the most controversial shows. The first one, "13 Reasons Why," follows the story behind a young girl's suicide and the secrets that accompany it. The belief is that it glamorizes suicide and other serious issues like depression, abuse, sexual assault and bullying.
When this show first aired last March, it sparked debates on how it did or didn't convey the right message on these heavy topics. Although the series does show some graphic scenes (such as rape and the main character's suicide), people seem to misunderstand the "reasons" behind them. The show was believed to be "too real" and uncomfortable, but that was the main point behind these scenes. If you watched the interview segment called "Beyond The Reasons" where the actors, producers, and psychologists talk about these heavy topics that came a long with the show's release following each season, you would know the show's intention was to demonstrate the uncomfortable feelings and realities of these situations. You would also know that in order to help people understand the truth, the producers did not sugar coat it with a fictional version. Though the importance of the topics seem to rule out the negative components of the show, overly concerned people, especially parents, still find the topics inappropriate for younger ages. If that's the case, those parents shouldn't let their kids watch this show; that's their prerogative. This show is important, and shows like it need to be aired.
"13 Reasons Why" wasn't Netflix's only controversial show. Earlier this year, the streaming service released a trailer about "Insatiable." its latest teenage show. The show focuses on a girl who went from being overweight and bullied to being skinny and "hot." Instead of empowering the character for going through the process of weight loss, this show ended up  fat-shaming and stereotyping overweight people. The trailer alone left people outraged. Because of this reaction, the show had already created predetermined opinions that caused its initial release to be wrongfully judged. Based off of a true story, the producers' mindset may have been in the right place, but the execution was all wrong. People perceived the message as if you aren't a certain weight, no one will like you, and they will make fun of you. If you are a certain weight, then you are considered pretty, and, therefore, you are now likeable. To a certain extent, there is truth to that, and that was what angered the character and led to the events of the rest of the season where she went to extreme lengths to fulfill her revenge on the people who based their opinions of her off of the way she looked.
Not even a month after the release of "Insatiable," Netflix's next major disaster "Sierra Burgess is a Loser" began streaming. With leads like Shannon Purser (of "Stranger Things") and Noah Centineo (of the very popular Netflix Original "To All The Boys I've Loved Before") and a promising trailer, many believed that this movie would be another Netflix romantic-comedy classic. However, when the movie dropped, people were shocked to see scenes that they consider to be problematic. In one scene in particular, Sierra runs into Jamey and his (unknown to Sierra) deaf younger brother and pretends to be hard-of-hearing. Along with the extreme catfishing, unconsented kissing, and cyberbullying, this movie was disappointing, but there were some important lessons like body positivity, self-acceptance, and the responsibilities of a true friend. It was a movie filled with flawed characters who made big mistakes, but that was what fueled the opportunity for these necessary lessons even though these scenes warranted unforgettable cringe moments.
With the 14,835 titles available on Netflix, odds are that at least some shows will cause controversies and have flaws. People have jumped on the complaining bandwagon and have been listening to other people's opinions instead of watching it for themselves before they form an opinion. Instead, they should watch the show with open-minds or not at all. Will the outrage continue for Netflix in the third season of "13 Reasons Why" or the second season of "Insatiable," or will new controversies start for new shows such as "Maniac" and "Wanderlust?" Audiences will just have to wait and see what kind of problems premiere on Netflix.