By Ainsley Davis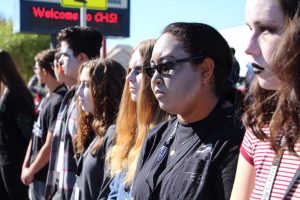 Raising awareness about safe driving, the "Every 15 Minutes" program took place Oct 18 and 19 in front of the school on Coronado Center Dr. and in the gym. Juniors and seniors missed third period on Thursday to attend a simulation of a car crash, complete with real police officers and first responders. Seniors Dillon Stewart, Julianna Viscardo and Lexie Potts, and junior Wilson Scow acted as victims injured in the crash.
"The simulation made me realize that our community cares about the safety and well-being of its students because they went to such extents to educate us," junior Gavin Bunker said. "It showed that no one is immune to chance."
Police officers and first responders followed the steps they take after a crash, assessing the scene and using the jaws of life to free victims trapped inside the cars. Potts was arrested for DUI, Stewart was airlifted to St. Rose Hospital in a helicopter, and Viscardo was declared dead at the scene.
"The chaplain acted like it was completely real," chemistry teacher Ms. Viscardo said. "He didn't sugarcoat anything, he spoke the same way he would if he was telling a parent their child had died. I had to keep reminding myself it wasn't real."
Viscardo's parents identified her, and paramedics took Scow to the hospital, where doctors declared him paralyzed from the neck down. An administrator read Stewart and Viscardo's obituaries while the grim reaper and 25 other participants in the role of "The Walking Dead" looked on.
"None of my friends knew I was going to be involved in the program," senior Taylor Hood said. "The whole point is to make it as real as possible, so I refrained from telling people. When I got my phone back after the retreat I was overwhelmed with kind messages from my peers."
Participants stayed at a hotel at Lake Las Vegas after the simulation where they attended workshops, listened to speakers, and played team building games to help them bond. During this time their phones were taken away to show family and friends what life would be like without them.
"The guest speakers talked about family members they had lost in DUI incidents," Hood said. "Their stories are so heartbreaking to listen to, but so important for young teens to hear."
The program concluded with a second period assembly on Friday where a police officer played "Amazing Grace" on the bagpipes and teens taken by the grim reaper were "raised from the dead." Juniors and seniors watched a video showing what happened to each of the four kids involved in the crash, and 29 of their classmates disappeared from the yearbook, the same number of real people who die in car accidents during a school day. A mother shared the story of her son, who was killed by a drunk driver, and two volunteers read letters to family members they wrote during the workshop at Lake Las Vegas. The police chief concluded the program by asking students to keep each other accountable and understand the consequences of their actions.
"I hope that after this experience, kids look out for each other, love one another," senior Dillon Stewart said. "Tragedies are very preventable, and one moment can change the course of someone's life."