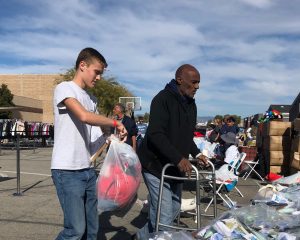 Soap for Hope is a non-profit organization that creates and donates sanitary kits for the homeless in Nevada. Coronado student Sean Maseng created the organization in 2016 when he started donating the items to the homeless for his Eagle Scout project.
"I decided to expand my Eagle Scout project because I saw that there was a huge need in our community for these kits and the people needed these items," Maseng said.
During the Thanksgiving break Maseng distributed the kits out in the Las Vegas area on November 20 and 21.
"We went to Project Homeless Connect where we gave out 1500 kits to the homeless and disadvantaged," Maseng said. "The next day we distributed 450 kits and Piero's served a free Thanksgiving dinner."
He conceived the idea to give hygiene kits to the community when his dad, a pilot, brought home unused shampoo and soaps from hotels. They work with multiple organizations to provide kits for those in need.
"We work with Lutheran social services, CHIPS, and Nevada Homeless Alliance," Maseng said. "We have also worked with Catholic Charities and Renew."
The kits are given out weekly in the Las Vegas area to those unable to buy or provide themselves with sanitary items.
"The people that receive the kits smile and say thank you," Brett Barish, board member of Soap for Hope, said. "They are so appreciative for the items we give them."