By Samantha Catalano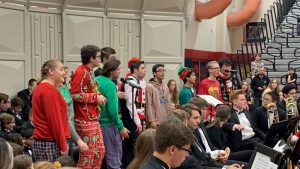 Getting students in the holiday spirit, the band, cast of the spring musical "Legally Blonde," dance team, choir and orchestra performed at the winter assembly in the gym on Dec. 14.
Wind Symphony and Jazz band played "Sleigh Ride." They spent weeks preparing for the assembly.
"I like the assembly because it's kind of a reminder to the rest of the school that there is a performing arts aspect to Coronado, and it should be appreciated more," band member Maya Flores, junior, said.
Chamber Orchestra presented the winter song "Deck The Halls," along with playing "Do You Hear What I Hear" with the band and choir.
"The assembly is a good experience for us, and it's the only time we get to play as a whole with band and choir," Chamber Orchestra member, Matea Zelich, junior, said.
Along with these pieces, Choir performed "Sleep" by Eric Whitacre, Women's Barbershop sang "Baby Please Come Home" by Mariah Carey, and Mens Barber Shop harmonized to an arrangement of Grinch songs.
"We worked really hard on the music we performed and rehearsed multiple times before hand," Choir member, Sedona Whalen, senior,  said.
The "Legally Blonde" cast performed "Bend and Snap" and "Whipped into Shape," ensemble dance numbers from their musical that is set to open on February 6 in the theater.
"'Bend and Snap' is one of my favorite numbers from the musical," junior Ava Coulter, who plays Margot in the production, said. "I'm really glad we got to show it to the whole school to promote the musical."