By Valerie Perez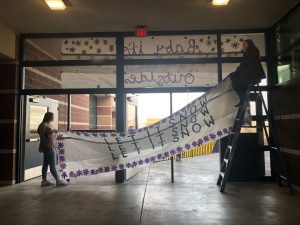 In preparation for last week's spirit week, Student Council and Student Council Club worked hand in hand to make it special for the student body. StuCo and StuCo Club may sound similar, as they both support and assist the school and student body, but they differ in countless ways.
StuCo, also known as Student Council is a class that creates events like assemblies and spirit weeks to encourage students to get involved with activities to lessen stress and boost school spirit. They come up with ideas that they think could positively impact the school, and they get straight to creating. When a new idea arises, StuCo creates goal sheets with tasks to complete the goal they are trying to achieve. Everyone in the group participates and does whatever they can to make the event the best possible.
"Everyone in Student Council participates and applies creative concepts so usually our goals become a reality," Maya Caress, sophomore, said.
Important events they created occured on Homecoming Day such as Homecoming Court and the bash after the game. These events allowed for an activity-filled day for the student body. Ultimately, the ideas they conceive can create lasting memories for students as they work towards making their high school years more meaningful.
StuCo Club sounds similar to Student Council, but there's a difference. This extracurricular club's main goal is to aid StuCo with potential ideas, and dividing the tasks so the workload isn't as great. This can consist of students decorating or helping out with selling food in the cafeteria and courtyard.
"Decorating helps the school because it makes it more welcoming and friendly," Sophia Allen, freshman, said. "It also gives the school a more positive outlook."
This is an important aspect during the holiday season and winter spirit week as well. Members of StuCo and StuCo Club decorate all over and organize the spirit days with lunchtime activities and treats, adding seasonal colors and themed days to raise festive school spirit. They helped put up posters in the hallways and decorate the doors for teachers. During lunch, they hold activities like giving out hot cocoa and playing seasonal music to get students in the holiday spirit.
It takes a lot hard work and dedication for us because we help out so much staying after school for countless hours," Camryn Gurr, freshman, said.