By Oliver Van Aken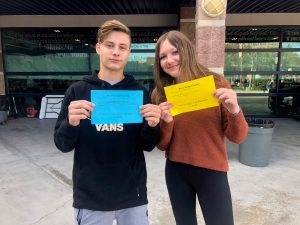 Cultural Celebration Night will occur on Wednesday, Jan. 16 in the cafeteria from 6:00 p.m. to 7:30 p.m. Students have been working not only towards the event but their goal of making every Cougar count.
"I think that all of the clubs spend a lot of time planning and putting their hearts into making cultural night a night to remember for everyone who attends." Morgan Stradtman, junior, said.
Students may remember the lone Cultural Celebration Night from last year, but this year it is accompanied by a Cultural Celebration Week. Cultural Celebration Week features decorations such as different national flags, pawprints with students' names written on them, and papers where students can write down their culture and why they are proud of it.  
Cultural Celebration Night will feature several clubs offering tables where students can learn about cultures from around the world. The clubs also present a tribute dedicated to their culture such as native art, dance, music, or food.
"Working on the event felt great because I got to help my school and community," Principles of Business and Marketing student Nicholas To, junior, said. "I think this project is good because it helps people feel welcomed."
Ms. Cheneyworth, Business and Marketing teacher, decided to use real marketing tactics from promotional campaigns for the project. Business and Marketing students learned skills such as different forms of advertisement and how to implement them, developing marketing knowledge over the year in class. After Cultural Celebration Week is over, Business and Marketing classes will continue to hang up posters in the halls which will clearly display their motto "Every Cougar Counts."
"We hope that every student feels accepted and like a valued member of the Coronado High School community," Ms. Cheneyworth said.