By Izzie Thornley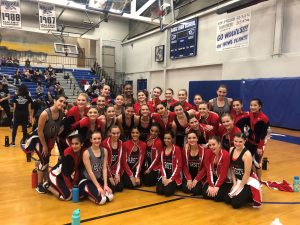 Varsity and JV dance teams won the Dance Team Union Regional Competition on Saturday Jan. 12 at Basic High School. The teams competed against Paseo Verde, Bonanza, Basic, Foothill, Centennial, and Green Valley. Dancers arrived at the tournament for an 8:15 a.m. call time in order to start prepping and warming up. The competition opened up with solo events, beginning at 9:00 a.m.
"I was nervous for my solo at first, but then the song ["Angels" by Khalid] started," sophomore JV dancer Emily Boettner said. "I knew exactly what to do, and I just started dancing."
JV and varsity performed separate group numbers following the solo performances. Cougarettes danced during the pom event portion at 11:30 a.m. followed by jazz events at 12:30 p.m.
"Our team felt very confident and motivated before performing our pom routine ["Beat it" by Michael Jackson]," sophomore JV dancer Carson Murphy said. "We all knew how much work we put in to perform our best and get to the place we were striving for."
In between the group numbers and the awards ceremony, dancers participated in a master class at 2:30 p.m., each ensemble choosing between a specified jazz or hip hop class.
"The master class was really great, and it allowed us to let loose after competing all day," sophomore varsity dancer Trista Joy said. "The choreography was fun and easy to stylize, and it helped pass time before awards."
After the master class, dancers congregated for the awards ceremony where the judges awarded both JV and varsity teams the title of Regional Champions. As a result of this victory, the varsity team will perform at the national competition in Florida in Feb.
"I was so excited when I heard that we won because it was our first major competition of the season," sophomore JV dancer Nadia Habashi said. "We started off the season right on such a high note."