By Angeli LaGuardia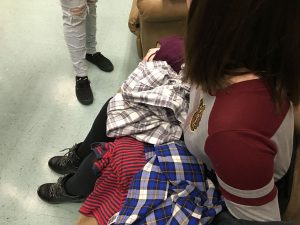 Cougars Can is currently hosting the "New Year, New Me" clothing drive which ends Wednesday, Jan. 23. The majority of donations will go to Goodwill for the less fortunate. Students can give their clothes to Mrs. Hall in room 801 before and after school.
"It's important for Cougars Can to host this event, in hopes of getting more peers to participate in the clothing drive," Vice President Kayla Paragas, junior, said. "Students are not aware that they have the ability to help the community in such a simple way. By having the clothing drive at school, students have the opportunity to do so, helping themselves and others."
The club is aiming for donations to send to women's and children's organizations. After the clothes are organized by gender and size, the remaining donations will then go to Goodwill. The clothes are for homeless families and those who struggle with financial stability.
"Students can bring any type of clothing item," Paragas said. "The clothes can be brought in plastic bags for efficiency, and they don't have to be folded."
Cougars Can is giving out volunteer hours for donating. For every five clothing items donated, students will receive one service hour. Students donating not only benefit themselves but also their community. Tomorrow is the last day to donate to the cause.
"Students should feel encouraged to participate in the drive," President Sara Ross, junior, said. "We as a community have the power to give those who are less fortunate new clothes, all while cleaning out our own closets for the new year."