Men's Basketball
By Bryce Becker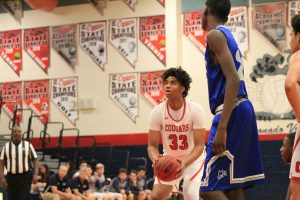 Men's varsity basketball began the week defeating Foothill 95-90 at home on Tuesday, Jan. 15. The Cougs' defense held the Falcons from gaining a lead while sophomore Jaden Hardy (#1) scored 34 points and junior Max Howard (#21) shot 16 points for the Cougs.
"We have been focusing a lot on defense," junior David Cantor said. "We are averaging almost 80 points per game, but we need our defense to be perfect in order to win state."
The Cougars squashed Basic 94-63 at home on Thursday, Jan. 17. In the first half, the Cougs took the lead 61-31. Though the Wolves scored more in the third quarter, they failed to comeback and win. Junior Jhaylon Martinez (#33) scored 24 points along with freshman Richard Isaacs (#2) scoring 14 points.
Men's varsity basketball stands 4-0 in league and plays again at home against Tech on Wednesday, Jan. 23 at 6:30 p.m.
Women's Basketball
By Ryan Kelleher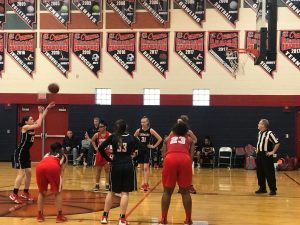 The women's varsity basketball team clutched a 53-52 win over the Foothill Falcons on Tuesday, Jan. 15 at home. Senior Tia Thornton (#11) led the Cougs with 15 points while junior Gabbie Etopio (#15) contributed 12 points. The winning streak continued as varsity crushed the Basic Wolves 66-34 on Thursday, Jan. 17 for another home game. The Cougar's superior offense kept them ahead the whole game. Juniors Giuliana Caringella (#25) and Sade Williams (#23) scored 12 and 13 points respectively.
"Playing at home is a lot of fun and definitely gives us an advantage in games," senior Katie Hamlin said. "The support from the student section always helps and has a big influence on close games like the one against Foothill."
Women's varsity basketball has a 2-2 league record and a 10-7 overall record. The Cougs return on Wednesday, Jan. 23 at 6:30 p.m. at Tech High School.
Flag Football
By Matthew Eskridge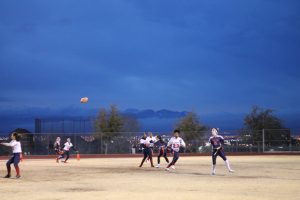 Varsity flag football won 20-6 on Wednesday, Jan. 16 in a home game versus Liberty and lost 0-6 at Tech on Friday, Jan. 18.
In the home match against Liberty, senior Jaelyn Eisenhart rushed for 97 yards, averaging 9 yards per carry. Sophomore Kaylin Hall, quarterback led the team to victory with 157 passing yards and three touchdowns.
"We all put forth effort, but it was just an off game for us," Hall said. "We need to come together more than ever and get in our right mind before playoffs."
The Cougars ended the week losing a tough 0-6 battle against Tech. Both teams' solid defense kept the game scoreless until Tech made a strong play and scored in the fourth quarter. Flag football will face off against the Foothill Falcons today at home at 4:30 p.m.
Wrestling
By Ryan Kelleher
The varsity wrestling team crushed the Basic Wolves 57-24 on Wednesday, Jan. 16 for the second league match of the season. Freshman Spencer Brock, sophomore Dominic Batara and junior David Darlington all won by fall in less than a minute. Seniors Andrew Olson and Kevin Burdalski also contributed to the Cougar victory with wins by fallout.
"We need to compete well in league matches to ensure our spot in playoffs and regionals," sophomore Jase Brock said. "Teams and individual wrestlers can advance to regionals, so there is an added pressure to these matches."
Varsity currently sits with a 1-1 league record and 3-5 overall record. Wrestling's next match is against the Foothill Falcons on Wednesday, Jan. 23 at 6:00 p.m.