Flag Football
Matthew Eskridge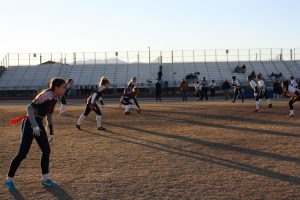 Varsity flag football began the week losing a tough 6-14 home game against the Foothill Falcons on Tuesday, Jan. 22. Foothill scored first with a touchdown in the second quarter. In the fourth quarter, the Cougars scored a touchdown but failed to prevent another Falcon touchdown.
The Cougars defeated Basic 32-0 in an away game on Thursday, Jan. 24. After scoring 19 points in the first half, the Cougars held the lead throughout the game scoring another 13 points in the fourth quarter.
"We did all our jobs and were working for each other as a team in the game all the way through," sophomore Kaylin Hall, quarterback, said. "We're so hyped to keep this energy up moving forward."
The Cougars are 11-4 and play their next away game versus Foothill today at 4:30 p.m.
Men's Basketball
By Bryce Becker
Men's varsity basketball defeated Durango 99-95 in a home game on Monday, Jan. 21. Freshman Richard Isaacs (#2) scored 29 points along with junior Tyrell Hunt (#10) scoring 21 points to lead the Cougs to victory. In the second home game of the week, the Cougars defeated Tech 84-38 on Wednesday, Jan. 23. The game was close in the first quarter until the Cougs defense shut down Tech.
"This week we played well and are glad to be 13-5, but we need to work even harder to reach our goal of winning state," junior Max Howard said. "We are going to train harder in practice and play better defense in games."
The Cougs play their next home game on Tuesday, Jan. 29 against the Green Valley Gators at 6:30 p.m.
Girls Basketball
By Roby Tan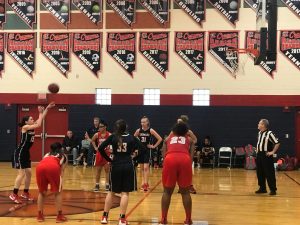 Varsity girls basketball won a home game 49-43 against Arbor View on Jan. 21. The Cougs started the game rough without scoring in the second quarter, but they picked themselves back up in the fourth quarter and scored 17 points to take the win.
"It was really fun, and it was good for our team to come together in the end," junior Dallas Balanay-Flores said. "We have good team chemistry on and off the court, and we can lift each other up which makes me proud of my team."
The Cougs won the second game of the week crushing Tech 65-27 on Wednesday, Jan. 23 in an away game. The Cougars next home game is on Jan. 29 at 5:00 versus the Green Valley Gators.